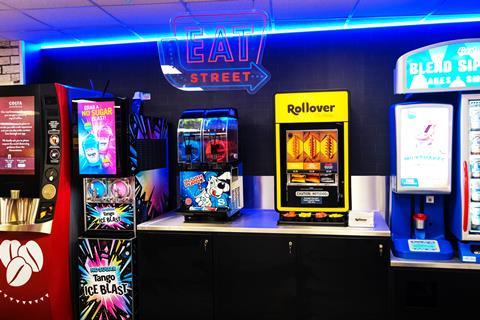 One Stop is rolling out its food-to-go concept Eat Street to all new company-owned stores.
It follows a trial that kicked off in February across eight sites. It brings together a raft of self-serve brands such as Tango Ice Blast, F'real, Rollover Hot Dogs, Costa Coffee and Dunkin' Donuts into one section of the store.
The station is also sited near sandwiches and handheld drinks, creating a dedicated area for on the go.
The Tesco-owned retailer said it was responding to a rise in customers wanting more food-to-go options in store.
"We wanted to create an area in store that can be seen as a focal point for customers as well as an area that brings all of our vending initiatives together, meaning the customer shopping trip remains as easy as possible," a spokesman told The Grocer.
Franchisees now have the option to implement the concept. "They will be able to choose which services they would like within their Eat Street station," added the spokesman.
"However, we will be on hand to support franchisees with their decision, evaluating each site on a product-by-product profitability basis, as well as reviewing the local area, the needs of the customers and competition close by."
Eat Street has been so far rolled out to seven new company-owned stores.