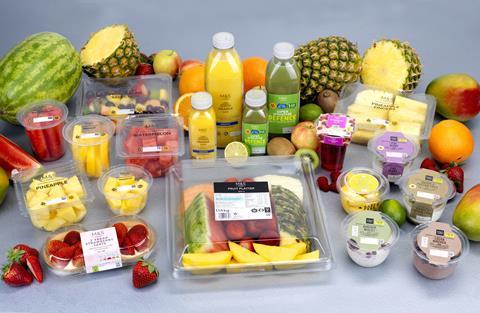 Fruit and juice supplier Orchard House has hired a new executive leadership team as new private equity owner looks to kickstart growth.
The company, which was bought by Elaghmore from US food group Hain Celestial in January 2021, has brought in Steve Corby as its new chief executive officer and Antony Greenwood as commercial director.
The hires add to its addition of former Premier Foods CEO Gavin Darby as executive chairman in March this year.
Corby will assumes the CEO role immediately, having most recently completed a five-year turnaround at Kanes Foods, a privately-owned chilled produce business.
Previously he spent nine years at Cott Beverages, where he was MD Europe and has also held commercial leadership roles at both Northern Foods and Greencore.
Greenwood joins in October from salads specialist Agrial Fresh Produce where he is commercial and marketing director UK & Ireland. He has also worked at Muller UK & Ireland Group, Dairy Crest and Nestle among others.
He will succeed Jonathan Back who will be leaving Orchard House after three years to pursue other interests.
In addition to these changes, Alex Tompkins, currently MD of Orchard House, has been appointed chief operating officer, reporting directly to Corby.
Orchard said the hires are part of a wider growth strategy, supported by £4m of capital expenditure committed by its new owners to increase capacity, efficiencies and innovation.
Gavin Darby commented: "Both Steve and Antony bring to Orchard House extensive experience in chilled produce, and the retailer brand experience. Strengthening the management team is part of our investment to allow us to capitalise on exciting opportunities we see for the business.
"We will also be investing in our people, technology, and processes to ensure we offer our customers the best service."
Orchard House supplies retailers, on-the-go food outlets and foodservice providers across UK, with clients including Marks & Spencer, Morrisons, Pret a Manger, Sainsbury's and Tesco.
The Corby-headquartered supplier employs around 1,000 people, and turns over more than £130m annually.
Hain acquired Orchard House from Wellness Foods in December 2015 as part of a drive to make its portfolio healthier. However, the US food group sold the business as its focus shifted back to its domestic North American market.