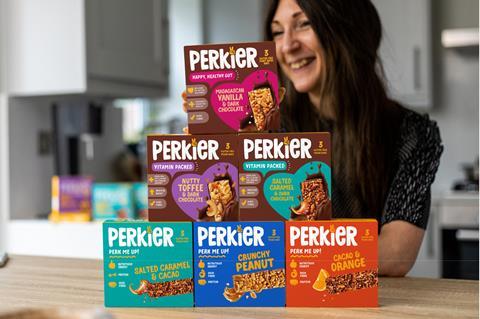 Healthy snack bar start-up Perkier has beaten a £400k crowdfunding target in the first week of its campaign.
The plant-based challenger brand has currently raised almost £470k from more than 140 investors on Seedrs, with the funding round set to remain open until mid-September.
Perkier plans to use the money to increase brand awareness and grow its retail presence. It will also use the cash to recruit sales staff, increase digital marketing and launch new products.
The fast-growing business has sold 17 million bars so far and has built up more than 5,000 distribution points, including listings with Sainsbury's, Morrisons and Asda, as well as Amazon. It also supplies foodservice giants such as Compass, Brakes and Bidfood
Retail sales increased 16% last year and have accelerated in 2021, growing 86% in the latest quarter, as consumers continue to switch in numbers from more traditionally confectionery and biscuits for healthier snacking alternatives
Perkier claims its bars have 60% less sugar and 100% more fibre than competitors, with the range boosted by vitamins and probiotics to promote gut health. The brand also produces protein balls and a two-strong range of porridge pots
Founder Ann Perkins started the business following a long career in the food industry, including 12 years at Heinz.