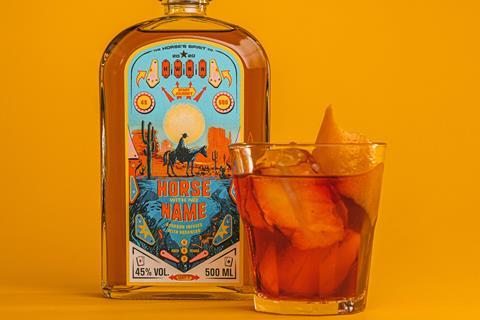 Pernod Ricard UK has launched a new upmarket bourbon infused with habanero chilli called Horse With No Name.
The drink (45% abv) is the brainchild of Pernod Ricard-owned Monkey 47 gin founder Alexander Stein, who created it under a new company called The Horse's Spirit Company in partnership with US distillery Firestone & Robertson (rsp: £47.89/500ml).
The whiskey is aged for four years in toasted American oak barrels, then blended with habanero distillate from specially cultivated chillis grown in the Black Forest in Germany, where Monkey 47 is based. The spirit currently used in it is supplied by Pernod Ricard USA, but it will be exclusively produced by Firestone & Robertson in future.
It could be enjoyed "neat, as twist on classic bourbon cocktails such as the Mint Julep, or Old Fashioned, or mixed with cola and a squeeze of fresh lemon and lime for a Cowboy Spritz", said the brand.
Pernod Ricard UK was "beyond excited to launch Horse With No Name in the UK due to the phenomenal success we have seen with Monkey 47", said its commercial director Ian Peart.
He added it offered "an intriguing new spirit, which is sure to become a talking point with consumers at the bar, as well as an original brand identity that we will be activating across the on-trade in the coming months".
It has rolled into Master of Malt and Amazon.
The news comes as Pernod Ricard this week made a major move into e-commerce, snapping up upmarket online retailer The Whisky Exchange for an undisclosed sum.