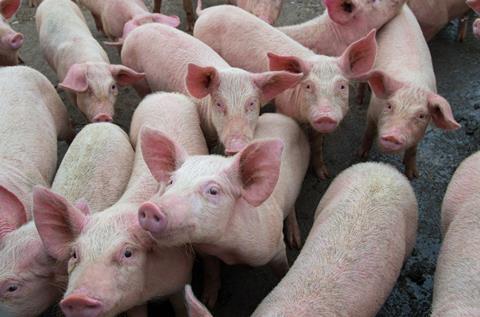 Farmers have started to cull healthy pigs that have been backlogged on farms due to the effects of the labour crisis, the National Pig Association has confirmed.
About 600 pigs had so far been culled on farms across the UK, said NPA policy services officer Lizzie Wilson on Wednesday morning, with both fully grown pigs and piglets killed in a bid to make space on farms.
But many more were preparing to make similar moves over the coming days, she warned. "This is just the start," she added, noting the estimated 100,000-plus pigs backing up on farms due to a shortage of butchers, which has exacerbated the effects of the ongoing ban on British pork exports to China.
"We have people who are absolutely desperate [now] and we have people who are a couple of weeks off having to cull. So, if we don't get some sort of support soon, more farms will have to follow suit."
It comes in a week when prime minister Boris Johnson played down the threat of a widespread "welfare cull" of backlogged animals – despite protests from farmers at the Tory Party conference in Manchester – with comments that enraged and alienated the pig sector.
In an interview on Sunday described as "absolutely disgusting" by NPA CEO Zoe Davies, Johnson told the BBC's Andrew Marr: "I hate to break it to you, but I am afraid our food processing industry does involve the killing of a lot of animals. I think your viewers need to understand that."
He then told Times Radio on Tuesday that the death of pigs "was what happens" if people wanted bacon sandwiches, as he disregarded the animal welfare implications of the backlog and the damage of such a widespread cull by insisting the UK needed to move toward a higher wage economy.
The NPA's Wilson said Johnson's ongoing response to the crisis "just beggars belief".
"Pay is not the issue here," she added. "A butcher in a large processing facility can earn just under £40,000, and processors are seriously upping the incentives available to staff.
"We're in this pickle because British people don't want to work in an abattoir, that's why we are reliant on immigrant labour," she said.
"We appreciate more can be done in the longer term to attract a domestic workforce but in the short to medium term we need this labour now. However, the government is resolutely and adamantly opposed to doing anything."
Wilson's comments follow a call by the NPA for support from retailers for British pork last week, amid a drop in the percentage of British pork facings in the mults.
Elsewhere, the RSPCA this week described the prospect of a widespread pig cull as an "animal welfare catastrophe", as it called on the government to take "decisive action immediately to safeguard the welfare of animals and support British farmers".
Referring to the PM's comments, RSPCA director of advocacy and policy Emma Slawinski said on-farm culls "will be traumatic for many animals and people alike".
"Slaughterhouses are specifically designed to kill animals. Shooting thousands of healthy pigs on a farm will be extremely difficult, even for a skilled expert. Pigs are intelligent animals, they are big and strong animals, weighing as much as an adult man, and getting a clean shot will be difficult, even for a skilled expert. Farmers will do their best but it will be incredibly distressing for the pigs being separated at slaughter."