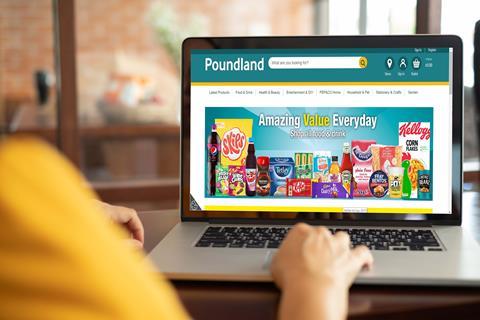 Poundland has almost doubled the size of its online delivery trial, with coverage this week extended to major towns in the Midlands and South Yorkshire.
From today, home delivery of more than 3,000 products is available to around a ninth of the UK population, the discounter said.
Poundland has also added an "online-only exclusive category" to its e-commerce site, featuring "products not found in stores" such as a range of Slimfast bars, powders and milkshakes, and an 18-pack of Yankee Candle votive candles.
The long-awaited online service, delivering general merchandise and ambient food and drink, was quietly tested earlier in the year by 18,000 Poundland staff and selected guests.
The service was launched to the public in May, with coverage in Birmingham and Walsall postcodes. The following month, Stoke-on-Trent, Derby, Wolverhampton and Dudley postcodes were added.
The addition of availability to more areas in the Midlands, including those with Nottingham, Leicester, Coventry, and Telford postcodes, as well as Sheffield postcodes in South Yorkshire, takes the total potential customer base to 7.3 million people.
"After a positive response to our initial pilot, we opened the trial to more areas in the Midlands and now we're making another move which will take us across a big part of the Midlands and into Yorkshire," said Poundland retail and transformation director Austin Cooke.
According to Poundland, prices on poundland.co.uk/shop are the same as in stores, and are being delivered for a flat fee of £4 regardless of the order size.
Orders are fulfilled from Poundland's "new fulfilment centre" – a former store in Cannock, Staffordshire – and delivered by Hermes.
Categories available on the site include grocery, gardening, entertainment, DIY, Pep&Co Home, health & beauty, household, pet, stationery and crafts.
The discounter said new product would be added "all the time". The SKU count has increased by 500 items since the start of the trial.
The online service is "just one part of Poundland's transformation plans" the discounter said. It is rolling out frozen and chilled food to hundreds of stores, opened two 'Poundland Local' stores, and revealed plans for a second convenience format, 'Poundland Go', intended for shops near travel hubs.