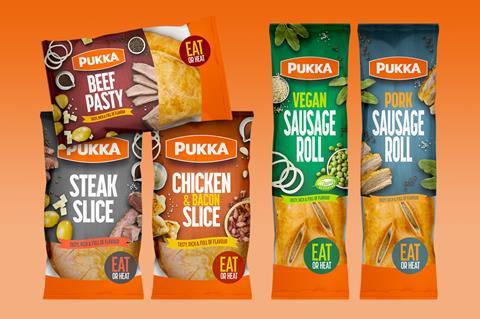 Pukka is set for a showdown with the likes of Higgidy, Greggs and Ginsters, with the pie stalwart set to move outside its heartlands for the first time.
Pukka, which was named The Grocer's Brand of The Year at The Grocer Gold Awards 2020, is hoping to steal a slice of the wider savoury pastries category with a new range of handheld snacks.
The seven-strong range will include a Beef Pasty, three slices – Cheese, Leek & Potato, Steak, and Chicken & Bacon, two sausage rolls – one meat and one vegan, and a multipack of pork sausage rolls. It will roll out from 2 September.
The vegan roll was made with "ground-breaking vegan proteins and cereal blends" with "a unique seasoning and classic peppery finish", said the brand.
Pukka said the move would "catapult" it into "a range of consumption moments" and new territories such as on-the-go snacking and lunchtime occasions.
The move comes on the back of a transformative period for the brand, which has spent the past years turning itself from a foodservice staple to a high-grossing fmcg brand, repositioning itself as "the people's pie" and launching a mass of NPD to tap modern trends such as its first-ever vegan pie.
Shoppers have taken to the revitalised Pukka with a vengeance: the brand's value sales grew 18.2% to £47.4m over the 52 weeks to 13 June 2021 [IRI].
It was "a natural next step to launch a unique handheld range", said Pukka CEO Deborah Ewan. Each SKU in the handheld range would "allow us to appeal to a host of different shopper missions – some of which we don't currently cater for".
The launch will be backed by Pukka's "biggest ever" cross-channel campaign, including a new TV ad that "highlights how the new products give epic people an epic food experience".
It is also hoping to "disrupt the category" with new packaging by breaking up what it called a "wall of beige" packaging from rivals. Its new packs would create an "orange beacon" instead, it said.
The range will roll into Asda from 2 September, to be followed by Morrisons in October and Sainsbury's in November (rsp: £1.50-£1.75).
But Pukka isn't the only savoury pastry brand ravenously eyeing share gains on shelf.
Posh competitor Higgidy, for instance, has also moved into slices, unveiled a duo of 'veg-packed' pies to lure more health-conscious shoppers, and collaborated with Sainsbury's on Higgidy-branded fixtures, which rolled into 277 stores in May.