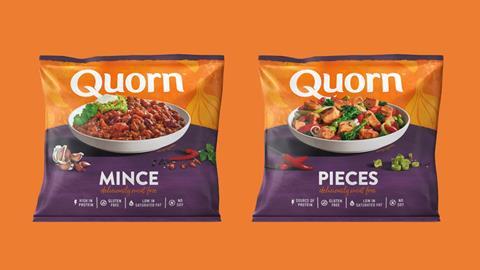 Meat-free brand Quorn saw its growth hit by capacity constraints and a slump in foodservice sales last year.
Newly filed accounts for the year to 31 December showed turnover increased by 2.9% to £236.2m, compared with growth of 4.5% in 2019 and 7.4% in 2018.
Quorn, which was acquired by Japanese noodle giant Monde Nissin in 2015, said the Covid outbreak had a "significant impact" both on demand in its UK and core markets and on its manufacturing capacity and efficiencies.
It said productivity was hampered by social distancing and shielding, while the availability of trained, skilled staff was "consistently reduced".
The brand also suffered from a slump in its foodservice revenues amid hospitality closures and reduced capacities when lockdowns were eased, meaning sales shifted into retail.
UK sales were up 4.2% to £180m and sales outside Europe were up almost 33% to £28.4m. However, European sales fell by 23.3% to £27.7m from £36.1m.
Pre-tax profits more than halved from £19.3m to £8.5m, though this was largely driven by an £11.8m writedown on its new Stockton-on-Tees factory. Operating profits were 17% higher at £25.4m without this exceptional expense.
A Quorn statement said it was "pleased with our 2020 performance, considering the challenges created by the pandemic".
"Underlying trading was very positive, and we kept our colleagues and business partners safe while not making any claim on the government for furlough money."
It said that it returned back to full manufacturing capacity in the summer of 2020 and that it has seen a recovery in its food service revenues in 2021 as the hospitality industry reopens.
In June Monde Nissin raised $1bn via the largest ever IPO in the Philippines to help fund a global push for its meat alternative brand.
Quorn committed to invest £150m in production over three years after seeing its sales growth hit by capacity constraints as it struggled to keep up with demand during the early stages of the pandemic.