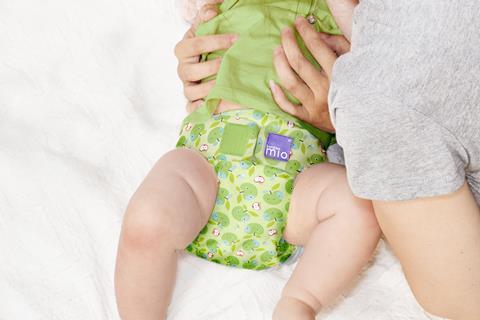 Reusable nappy brand Bambino Mio has netted a £13m investment from BGF to boost growth in the UK and beyond.
The deal represents the largest investment ever in a reusable nappy firm in the UK, with the category expected to become a £1bn market globally by 2025.
The funding will allow the business to expand and accelerate its growth domestically and internationally, and will be used to drive multichannel growth and increase spend across the firm's infrastructure, marketing, brand and product development.
Disposable nappy products are currently the third-biggest contributor to landfill, and 90 billion disposables are thrown away globally every year. Bambino Mio's reusable nappies produce 99% less waste and use 98% less raw materials, it said.
The Northamptonshire-based business, founded in 1997 by husband and wife Guy and Jo Schanschieff, has experienced rapid growth due to the worldwide emphasis on single-use plastic and has expanded its range to include potty training pants, swimwear products, change bags and change-time accessories.
"This investment means we can continue to work towards our ambition of becoming a global leader in sustainable and reusable products in the fmcg sector," co-founder Guy Schanschieff commented. "We want to continue to positively disrupt the nappy industry and shift consumers to a sustainable nappy for their children that has tangible benefits to their baby, their wallet and to our world."
BGF, formerly the Business Growth Fund created by banks and the government in the wake of the financial crash, is the UK & Ireland's most active investor with £2.5bn in more than 400 companies invested since its created.
As part of the transaction, BGF Investor James Syrotiuk will join the board as a non-exec director alongside newly appointed non-exec chairman and former Tetley Tea CEO Peter Unsworth.
Syrotiuk added: "We regard Bambino Mio as a leading brand in the growing global reusable nappy market and are thrilled to be backing a purpose driven management team who are passionate about improving the environment through the reduction of single-use plastics.
"Bambino Mio is already established in Europe and with a growing global footprint, there is significant opportunity to increase market share in all territories by supercharging the brand and product development worldwide."