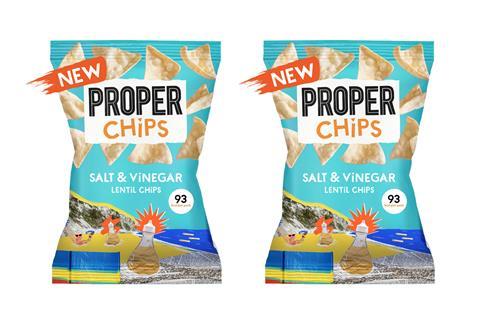 Sales of Warp Snacks, the company created after Exponent's acquisition of Proper Snacks, are up almost 30% this year.
The combined company had seen an "exceptional" start to trading since its creation in February, with combined sales up 29% year-to-date, it said.
Sales of Proper are up 36% year to date with growth driven by Proper Chips, which were launched in 2019, while popcorn sales are up 26% in grocery thanks to new formats and flavours.
Eat Real sales in out of home are down versus the same period last year due to the impact of lockdown on foodservice accounts, but have staged a strong recovery in July since reopening.
Year to date sales of Eat Real are up 23%, with sales up 18.5% in grocery supported by strong presence in independent retail and convenience.
Warp CEO Chris Schulze-Melander said he was "delighted" by the performance.
He commented: "Since Proper and Eat Real joined forces earlier in 2021, we are delighted by the performance of both brands. Together, they are proving to be a potent force in the category. Not only have they shown resilience during the pandemic, but we are seeing exceptional growth numbers now lockdowns are easing.
"The continuing double digit growth of both brands, with Proper Chips doubling in the last year, proves the cut through of our snacks with consumers, and the success of our new products. We continue to be the UK's fastest growing better for you company. We couldn't be more excited about building on this momentum – we've only just got started."
Newly filed accounts for Proper showed it was in strong growth in 2020, before it was bought by Exponent and combined with the Eat Real brand.
Proper's turnover rose 14% from £15.9m to £18.1m, while underlying EBITDA edged up from £315k to £400k, albeit its pre-tax loss rose to £3.4m from £2.8m.