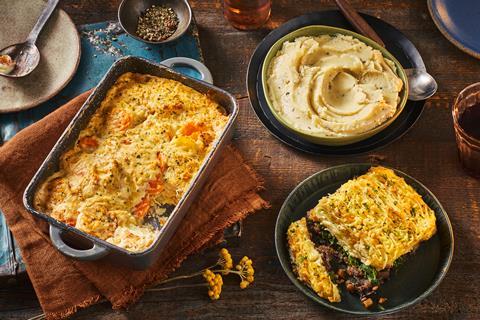 Sainsbury's has developed its first ever autumn-themed food range.
The retailer is launching a limited edition Taste the Difference Autumn range following customer feedback that showed people wanted food items that helped eased the transition into the colder months.
"The brilliant team of Sainsbury's product developers and I are therefore thrilled to present our first ever limited-edition Taste the Difference Autumn Edition range," said Sainsbury's director of product and innovation Claire Hughes.
"Within the range, we are particularly excited about our selection of truffle items – an autumnal ingredient and a flavour we know our customers love."
The new range features a series of seasonal produce such as truffle, pumpkin and other root vegetables.
Some of the newly developed products include pumpkin spice hummous, truffled maris piper potato mash and winter berry crumble.
Spicy Calabrian sausage 'ndjua also features prominently across the autumn range.
In addition, Sainsbury's also unveiled a Halloween-themed chicken sandwich, which customers will be able to get their hands on from 4 October.
The different products from the new seasonal range will be introduced to shoppers over the next few weeks.
The Autumnal Afternoon Tea range will be the first to head to stores on 1 September.
Some products, such as the chicken, 'nduja & kale soup and the pumpkin spice houmous will be available on 22 September, while others, like the root vegetable gratin, the truffle tortelloni and the sausage rolls will hit the shelves a week later.
Customers will be able to buy the truffle cheddar cheese and the "brookie" dessert from 10 October.
The price tags on the new products will range from 80p to £4.