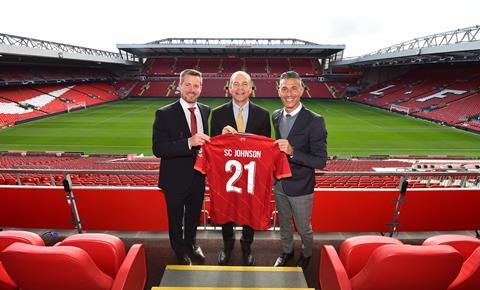 SC Johnson has partnered with Liverpool Football Club to recycle plastic bottles consumed at the stadium and repurpose the material to create Mr Muscle trigger bottles.
The closed loop model will see the 500,000 plastic bottles used at the club's Anfield stadium each season placed by fans into specially designed bins.
It's an initiative the company has rolled out at the Milwaukee Bucks and Milwaukee Brewers sports grounds in the US, where it collects more than a million plastic cups from each stadium annually and turns them into Scrubbing Bubbles bottles for sale in North America.
"Plastic waste is a threat to our planet for this and future generations," said Fisk Johnson, Chairman and CEO of SC Johnson.
"We believe we all have a responsibility to solve this critical environmental issue. Our partnership with Liverpool FC is one of the many steps SC Johnson is taking to move forward our vision for a waste-free world as it creates another local solution to this global problem by leveraging football to help close the plastic recycling loop," Johnson added.
SC Johnson is Liverpool's 'Official Cleaning and Disinfectant Partner' and is providing soaps and hand sanitisers throughout the stadium and AXA Training Centre to help promote health and hygiene. SC Johnson Professional, the company's commercial business, is working with the club to "establish a new standard of cleaning".
"SC Johnson has made important step changes within their industry that have delivered incredible results through several sustainability initiatives. I feel very optimistic about the work we can do together through this partnership," said Matt Scammell, commercial director at Liverpool FC.
The company – maker of household consumer brands such as Mr Muscle, Ecover and Duck – has committed to making 100% of its plastic packaging recyclable, reusable or compostable, along with tripling the amount of post-consumer recycled plastic content, by 2025.
Currently, 65% of SC Johnson plastic packaging is designed to be recyclable, reusable or compostable, and 19% of SC Johnson's packaging is made from post-consumer recycled plastic, up from 10% in 2019.
Since February 2021, all Mr Muscle trigger bottles sold in the UK are now made using 100% recycled plastic.