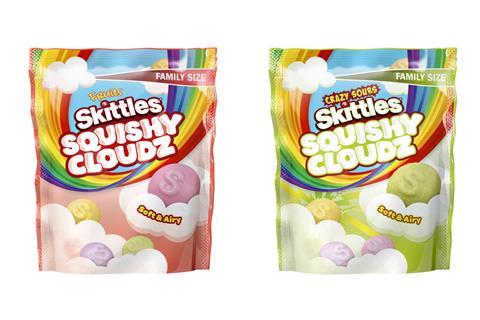 Skittles is moving into gummy sweets for the first time with a new range called Squishy Cloudz.
Billed as a combination of a gummy and a marshmallow, the NPD "defies the standards of identity by combining a gummy and marshmallow with the same fruity flavours of Skittles, in the form of a miniature cloud", said the brand.
They have launched exclusively into Tesco in two flavours: Fruits and Crazy Sours (rsp: £1.49/120g).
Skittles had "always brought bursts of joy to people's lives" and the launch of Squishy Cloudz "would be no exception", said senior brand manager Sasha Storey.
"We're constantly innovating to bring our lifelong fans new and exciting ways to enjoy the favourite fruity flavours of Skittles", she added.
It comes after the brand added a Crazy Sours flavour to its Giants range in June.
Three times the size of standard Skittles, they delivered "an intense, fruity, mouth-watering flavour", it said.
In the same month, it rolled out its annual limited-edition white Skittles for Pride.