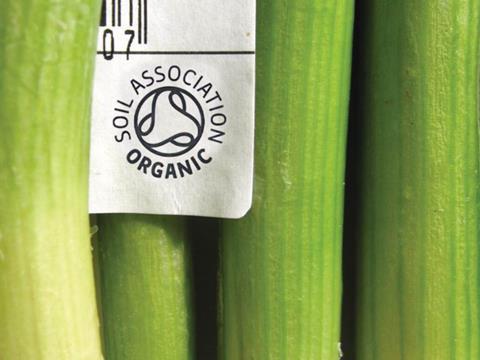 Organic certification body Soil Association Certification has signed up to Amazon's Climate Pledge Friendly initiative.
The tech giant's initiative, which was launched in October 2020, aims to make it easier for shoppers looking for sustainable products to find them on its platform and to know they have been independently audited and certified.
SAC's involvement means its licensees will be able to trade on Amazon with the Climate Pledge Friendly badge "and benefit from access to millions of shoppers who are searching for sustainable certified products", it said.
The Amazon initiative provides shoppers with greater choice across organic food and drink with a dedicated search functionality to enable them to find brands that meet the Climate Pledge Friendly criteria, "helping to further grow online organic sales", SAC added.
Amazon already has the biggest range of organic products of any retailer in Europe.
"We're delighted to be partnering with the Amazon Climate Pledge Friendly scheme to give our licensees access to millions of new customers seeking organic and planet-friendly products," said Soil Association Certification development director Clare McDermott.
"Online is a key channel for organic and has grown significantly through the pandemic with one in four organic products now sold online in the UK – and this will continue to grow," she added.
"We are continuing to see a huge boost in demand for organic and growing recognition among consumers that organic represents the healthy choice for people, nature and planet."
Climate Pledge Friendly started in the US and has now expanded to the UK, France, Germany, Italy and Spain. Customers in Europe can now buy over 100,000 Climate Pledge Friendly products in categories ranging from health and household items to office products and electronics.
Many of Soil Association Certification existing licensees including Pukka, Arla, Clipper and Rachel's Organic are already selling successfully via Amazon and are now part of the programme.
"Climate Pledge Friendly has been designed as a simple way for our customers to shop more sustainably and forms an important part of our commitment to building a sustainable business for our employees, customers and communities," said Amazon director of sustainability in Europe Zak Watts.
Soil Association licensee and Pukka's purpose lead Georgia Phillips said: "This is an important step in recognising those companies who are genuinely committed to embracing and furthering climate-friendly operations through organic. When Pukka began in 2001, the science was already clear that businesses needed to operate in a way that regenerates our environment and that's why our herbal products have been organic since day one.
"Soil Association Certification being a part of Climate Pledge Friendly will help consumers find products that are not only good for them but also good for the environment. By buying organic, you're casting a vote with every pound you spend for products that are best for us, for nature and for the planet. It's great that together, we put this at the forefront of consumers' minds."