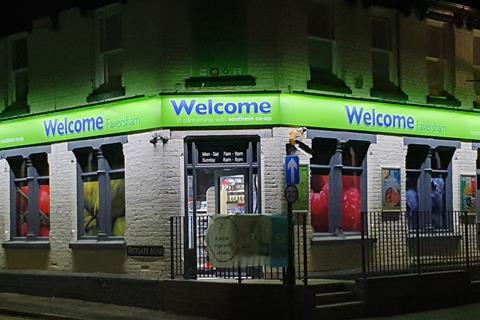 Southern Co-op has said it aims to open 12 franchise stores a year, which could see its estate more than double in five years.
The society opened its ninth store of the year under the 'Welcome' fascia last month, taking its estate to 53 stores. These vary from rural to London city stores, with 13% also made up of forecourt sites. They are owned by 24 franchisees.
Franchise business manager Mike Fitton told The Grocer that within the past two months, the business has hired four new employees to the team in correlation with the bolstering of its estate, including two new franchise operation managers.
One supports new business and refits, while the other looks after existing stores. It has also appointed two new franchise store support managers in a newly created role to aid new recruits during their first 12 weeks.
The new appointees have been promoted internally, and have at one point taken on a store manager role at Southern Co-op.
"They have a direct knowledge of the retail environment, so they can ensure our franchisees are looked after," added Fitton. "We will hold their hand all the way through from the very beginning."
The business is eyeing more stores in the south west to build on its existing six sites in Bath, Bristol and Taunton.
"Obviously, the type of sales in a store are an important factor when we look to recruit new sites," Fitton explained. "We will have stores that come to us with an X amount of turnover but when you when you look at the turnover, it's very high on cigarettes and alcohol.
"But we want to take on stores that mean you're going to sell a lot of fresh food as well. Even though your turnover may be high, if it's all tied into the wrong areas, you're not going to sell that fresh and the retailer is going to get more wastage.
"I won't take a store on unless it's right for the retailer and it's right for us. It's the quality of stores over quantity."
Fitton added the model of the business equates to a 'soft' franchise, unlike a hard franchise such as McDonald's, which is "very disciplined".
"We expect high standards from our franchisees but what we do is give our retailers opportunities to be a lot more entrepreneurial," said Fitton.
"For example, if they want to reflect and support the needs of their local community, they can do so by stocking local products. One of stores in the New Forest stocks 120 ales in the store from local brewers. Our offer also means they can change their pricing to reflect the local area too, so if they think they need to reduce the price of milk or bread, they can.
"We give our franchisees the option to improve and tailor their stores to the local community, while getting that umbrella support from us."