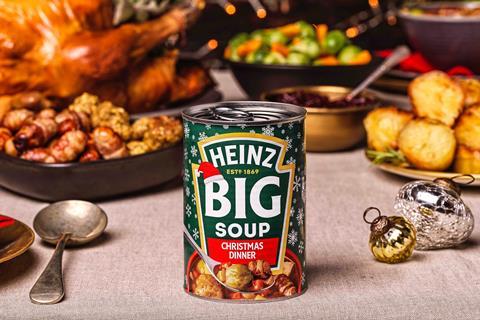 Heinz has launched a limited-edition Christmas dinner-flavoured version of its Big Soup.
The NPD contains turkey, stuffing balls, potatoes, brussels sprouts and pigs in blankets, and is billed as a "unique take on a quintessentially British meal".
A limited run of 500 cans have launched online through Heinz' DTC platform Heinz to Home (rsp: £1.50/400g).
The NPD was created after Heinz commissioned a survey of 2027 UK adults who celebrate Christmas, conducted by Opinium Research for the fmcg giant in June 2021.
It revealed that nearly a quarter (24%) of adults surveyed would eat Christmas dinner every day if they could, more than a third (36%) preferred it to any other meal, and two fifths (42%) would eat it more often if it didn't take so long to prepare, claimed Heinz.
Heinz soups brand manager Anke von Hanstein said: "Heinz to Home is a great outlet for us to offer fun and timely products for our consumers to try.
"We love to experiment with different takes on our loved brands and hope consumers enjoy Christmas Dinner Big Soup as much as we do."
Last year, the fmcg giant launched Heinz Beanz Baubles; Heinz Tomato Ketchup Crackers; a Heinz Tomato Ketchup gift set containing a festive apron, oven gloves and tea towel; and festive editions of its mayonnaise, ketchup, beans, tomato soup and hoops via Heinz to Home.