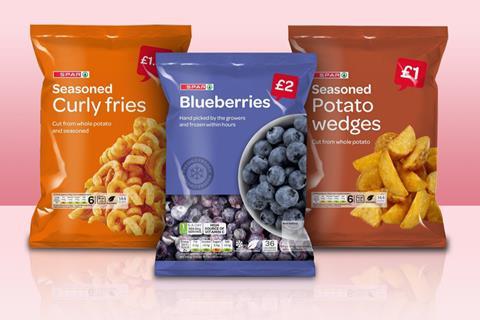 Spar is bolstering its frozen own-label range with five new products this month.
The symbol group said it was looking to capitalise on the increased consumer interest in the category after sales grew 14% during the year to April.
The products include extensions of its potato and fruit & veg portfolios, including curly fries, potato wedges, corn on the cob, raspberries and blueberries.
The new additions take its frozen range to 39 products overall.
"With consumer trust in the quality of our Spar brand lines, the increase in sales in Spar stores is predicted to continue as shoppers look for value and look to reduce their food waste," said Spar UK brand manager Dave Wright. "Frozen food can help reduce food waste at home because you can use only what you need.
"We will look to capitalise on this switch of shopping habits by bringing added interest to the range with these five new product lines."
The launch will be supported in-store with PoS, as well as featured on Spar digital channels.