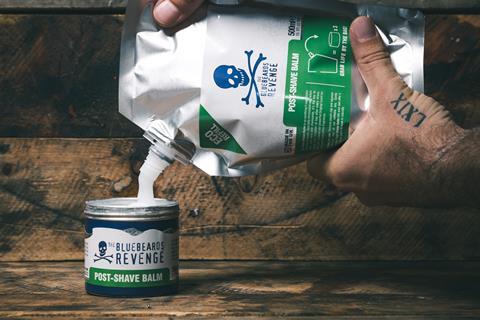 Male grooming brand The Bluebeards Revenge has unveiled a range of shaving refills as part of its ongoing transition to more sustainable products.
Refill pouches of its Pre-Shave Oil, Shaving Cream, Post-Shave Balm and Brushless Shaving Solution are available to order online now (rsp: £29.99/500ml).
Each 500ml pouch provided between three and five full refills of the brand's aluminium tins and recycled plastic bottles, saving shavers money with every use, it said.
They would reduce the amount of waste consumers created by up to 70%, it claimed.
"This is a huge step in our mission to drastically reduce the amount of virgin plastic and single-use packaging we use by 2022," said The Bluebeards Revenge marketing manager Lisa Drummond.
"With our whole shaving range now fully accessible in refill pouches, this gives us the drive to continue throughout The Bluebeards Revenge range."
It comes after the brand recently unveiled a duo of refillable underarm roll-ons and a trio of solid shampoo bars to help reduce plastic waste.
Over recent months, several male grooming brands have made concerted attempts to bolster their sustainability credentials.
In February, Gillette transitioned its core lineup of reusable razors into cardboard packaging in a move it said would eliminate more than 66 tonnes of plastic.
Bulldog Skincare recently announced its full range of moisturisers were carbon neutral.