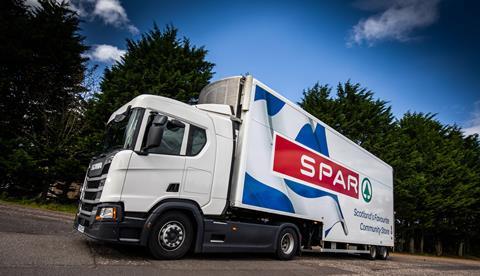 CJ Lang doubled pre-tax profits to £3m in the latest financial year as the pandemic pushed shoppers towards c-stores.
The Spar wholesaler, whose sales also grew 9.4% to £212.5m in the year to 30 April, put the results down to an increase in shopping locally and more frequently, as well as an improved product offer and "transformed" food-to-go proposition.
In the past year, the company has invested more than £2m in the rollout of its overarching food-to-go brand, CJ's. By the end of the year, the brand – which sits alongside ranges such as Costa Coffee, F'real Milkshakes and Dunkin' Donuts – will be offered in the majority of company-owned stores.
CEO Colin McLean also attributed the growth to a strategy implemented in 2018 following a five-year sales decline, which sought to "re-engage" the business and involved a management team shake-up.
"It was very much about bringing together a business that can genuinely understand the Scottish market," said McLean. "We understand Scotland better than anybody at a wholesale and retail level, and in reality, we've got a very strong position to play.
"We have been able to react flexibly to the changing Scottish retail landscape and continue to provide a first-class service to our consumers, independent retail customers and local communities at a time when they have needed us most,"
The business also announced at its annual trade show last month it will make a record-breaking investment into its company owned store estate with a major store refurbishment programme commencing next year.
This will go towards energy saving refrigeration to allow CJ Lang to improve its customer offer across chilled foods and produce.
The wholesaler is also planning refits by focusing on store format. The investment will go into large and small-scale development work where it will modernise the layout, look and feel of the stores, the business said.
"The Scottish retail market environment remains extremely challenging, with significant potential headwinds," added McLean. "Inflationary cost pressures, supply chain impacts, driver and fuel shortages have been well documented, however we remain well positioned to navigate these challenges.
"Our primary focus has been on the well-being of our staff whilst supporting our customers in the many local Scottish communities in which we operate as changes in routine have resulted in many shoppers choosing to shop locally.
"I would like to thank all our customers and staff for their continued support."