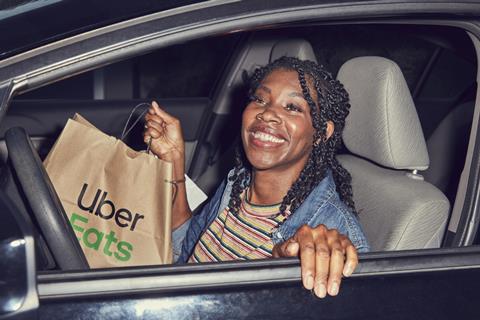 Uber Eats says it is "stepping up its battle for the everyday grocery delivery market" following a deal with Shell.
Shell stores had previously been on the Deliveroo platform, but Uber Eats made clear today it was now Shell's "exclusive partner" for deliveries.
Uber Eats is adding more than 340 Shell forecourt grocery stores – including Little Waitrose, Jamie Oliver Deli and Budgens as well as Shell's own Select branded stores – to its platform, many of them offering delivery 24 hours a day.
From today, customers can order items from 183 Shell locations nationwide, with a further 158 Shell forecourt stores set to join the app in the coming months.
The stores typically offer around 750 SKUs for delivery, from fresh fruit and veg to ready-made food and treats to household and cupboard essentials. Around 250 of the Shell stores will be open to fulfil orders at all hours.
"We're thrilled to be launching our stores on the Uber Eats app. With Uber Eats, we're able to reach even more customers and expand our delivery services across the UK," said Bernie Williamson, GM of UK retail at Shell.
"We offer our customers convenience on the go and with this new collaboration we can now also offer a wide selection of food and essentials, available for delivery to your door in less than 30 minutes," he added.
The partnership will "significantly expand Uber Eats' grocery business" the courier platform said, adding its grocery offering, which has sales growth of 400% in the past year, "continues to get bigger, despite the lifting of lockdown restrictions".
In the last three months alone, the Uber Eats app has seen nearly 90,000 orders for bananas, over 120,000 for loaves of bread and over a quarter of a million for pints of milk.
"As demand for grocery and essential items continues to soar on the Uber Eats app, we're delighted to bring Shell to the app as an exclusive partner," said Sunjiv Shah, Uber Eats' UK general manager.