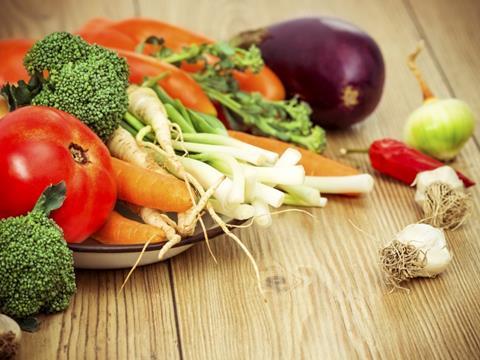 Supermarkets are being urged to make it easier for shoppers to identify when vegetables are in season.
The recommendation comes after a report by the Veg Power initiative found that consumers had a limited understanding of the seasonality of UK Veg.
Of the 2,000 people quizzed by YouGov for Veg Power during the summer, 19% did not know that carrots are in season nearly all year in the UK, 32% were unaware that courgettes are harvested from June to September, while the same number were unfamiliar with the broccoli season, which lasts from June until November.
As many as 75% of those surveyed believed it should be easier to identify which vegetables are in season and 80% called for supermarkets to do more to promote seasonal veg.
The research also highlighted a disconnect between those who care passionately about climate change and the environmental impact of their food.
"As a society we are failing to fully convey the message that the food system is responsible for 25%-30% of global emissions, and an area where each of us as individuals can make a significant difference by the choices we make," the report stated.
"This is even true with the 'Greta generation' of 18 to 24-year-olds; only 50% are concerned about the environmental impact of their food and only 28% choose to eat food that has a low environmental impact."
The report claimed this pointed to a "significant education deficit" but argued seasonality was a "simple, easy-to-communicate idea".
It suggested increasing variety and volume on the dinner plate, raising awareness about the climate and health benefits of eating in a seasonal fashion, and teaching people both how to prepare vegetables and when to buy them at their most flavoursome.
"Vegetables are an essential part of the solution to the related challenges of climate change, personal health and wellbeing, and the move to a more plant-based lifestyle," said Veg Power CEO Dan Parker.
"This research has identified that while many consumers are interested in consuming seasonal veg, there are low levels of awareness about which veg are in season when. To help consumers make their purchasing decisions, it would be very helpful for retailers to provide more guidance."
Launched in 2018 by Peas Please, a Lottery-funded industry push to increase vegetable consumption, spearheaded by the Food Foundation, the Veg Power campaign reached 100 industry backers in April after it signed up Waitrose.
Veg Power has set out an ambition for every child aged two to 19 to eat one more portion of vegetables every day, a target that would equate to an extra 326 million kilos of veg eaten every year.