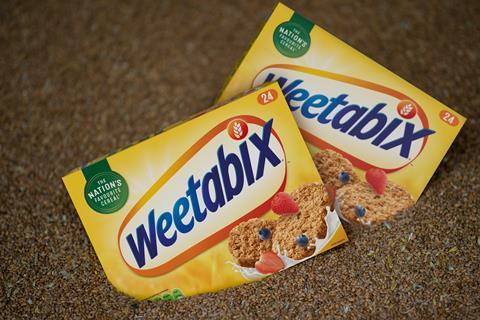 Weetabix plans to make 99% of its packaging recyclable by next summer.
The cereal brand said this week it was on course to hit the milestone three years ahead of its goal to make 100% of its packs recyclable by 2025.
The coming months would see it "unroll an improved, widely recyclable paper wrap across all its biscuits", it said, which would balance "the need to keep the cereal fresh throughout its shelf life with the need to be recyclable at kerbside".
The improved wrap also has a smaller carbon footprint, equating to a 20% reduction in emissions compared to its current packs.
Weetabix also plans to transition its Protein breakfast drinks to recyclable PET bottles made from 51% recycled content, having "invested in extensive trials to ensure the clear PET bottle is able to keep the nutritional properties of the drink from deteriorating in sunlight", it said, adding this would reduce the drinks' carbon footprint by 7%.
"Since food waste is a big contributor to carbon emissions and environmental damage, our concern is always to balance packaging innovation against that risk," said Weetabix head of supply chain and technical John Petre.
"Facing down this milestone of reaching 99% recyclable packaging is a huge testament to the hard work of the team. At this stage all the low-hanging fruit is long gone and the decisions that remain take a lot of hard work and dedication to get the innovations right."
The brand this week published a 2021 Sustainability Report detailing its commitments and achievements so far, such as receiving certification from UTZ, part of the Rainforest Alliance, that all the cocoa used across its product portfolio is sustainable.
This was the result of "a significant amount of work across the business, from changing recipes, updating up to 700 records, training staff, and auditing processes for products including Weetabix Chocolate, Weetabix Crispy Minis and Weetos, as well as chocolate flavours of Weetabix On the Go Drinks and Alpen Bars", said Weetabix.
The supplier has also inked a deal with UK-based green energy supplier Smartest Energy to supply its factories with renewable energy, generated by wind, solar and water power, and "invested in a capex project to capture and reuse water that becomes steam during its manufacturing process" it said would save over one million litres of water annually.
However it comes as Weetabix has faced strikes by workers in recent weeks over changes to shifts and working patterns, which union Unite has said would result in the worst-affected engineers being £5,000 a year worse off.
A Weetabix spokesman said it was "sorry to see our engineering team going on strike, but respect their right to do so".
It was "unfair and inaccurate to compare this with other disputes that require new contracts to be signed or face dismissal; this is not a choice we're considering at present. We remain in close consultation with our engineers and their representatives and are confident the opportunity still exists to find a resolution that creates future shared success," the spokesman added.
Weetabix was not expecting any impact on stock availability as a result of the strikes, he stressed.