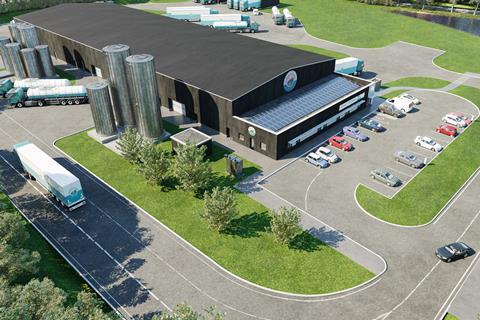 Startup dairy processor Pembrokeshire Creamery has begun building work on a 3,000 sq m liquid milk bottling centre in Haverfordwest, Pembrokeshire.
When the £12.5m facility is fully operational in December 2022, the plant will have the capacity to bottle a million litres of milk per week in its first phase.
It will also see a return to the bottling of Welsh milk in Wales for the first time since the collapse of Tomlinsons Dairies in October 2019. Milk sourced from Welsh farms has had to be transported over the border for processing since then.
Pembrokeshire Creamery, which is a new business that has the same directors as nearby fruit and veg supplier Puffin Produce, said the new plant would "reduce food miles, increase supply chain efficiency and support local farming and communities".
Funded in part through a £5m injection by the Welsh government's European Agricultural Fund for Rural Development Food Business Investment Scheme, the site was specifically designed to service the major supermarkets across Wales, said Pembrokeshire Creamery shareholder and Puffin Produce CEO Huw Thomas.
The business was already in discussions with "a number of retailers", he told The Grocer, and planned to sell own-label milk alongside branded 'Blas Y Tir' milk, in partnership with Puffin Produce's existing veg brand.
"I have always found it somewhat misleading for Welsh consumers that the milk sold by the major retailers is not processed in Wales," Thomas said.
"Our development can put an end to that, supporting Welsh farmers and the Welsh economy whilst increasing sustainability," he added.
"The current crop of supply chain difficulties has highlighted the weaknesses of extremely centralised processing models. We have a unique opportunity in Wales to decouple Welsh milk from English processors and bottle milk close to where it is produced with the added benefit of supply resilience."
The location of the bottling centre in Pembrokeshire put the facility at the heart of Wales' highest density dairy milk producing area, the business pointed out.
"Supplying the major supermarket retailers with Welsh milk that is bottled in Wales will help support the dairy farmers of West Wales during this period of rapid change, and will also help create a long-term sustainable supply chain for Welsh consumers," said Pembrokeshire Creamery chairman Rhys Iley.
The project is being supported by a team of experienced industry professionals, including Martyn Mulcahy and David Dobbins, previously board directors of operations and commercial at Robert Wiseman Dairies, who join the Pembrokeshire Creamery board.
They are joined by Huw Thomas and Puffin Produce CFO Jon Langmead. Chairman Iley is a former VP of operations for Starbucks EMEA. Meanwhile, Mark Harrod, owner of RE Farms and Fenmarc Produce, who is also a board member of Puffin Produce, completes the company's board.
The announcement marks the second major investment in the Welsh dairy sector this year following news in June that work on a £20m cheese-making plant owned by Anglesey-based startup Mona Island Dairy would start this month.