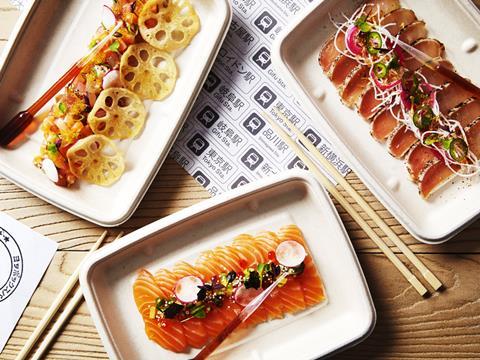 Yo Sushi parent company Snowfox suffered a sharp drop in sales as stores were forced to shut in pandemic, but it continues to grow its supermarket presence to mitigate the impact.
The parent group to Mayfair Equity Partners' sushi empire, which owns Yo, UK-based retail supplier Taiko and Canada's Bento, saw total revenues fall by almost 30% to £134.3m from £191m in the year to 29 November 2020, largely driven by falling revenues at Yo restaurants.
Yo Sushi saw sales more than halve from £91.7m to £41.m due to store closures and the "unprecedented impact" of Covid.
The chain, which underwent a CVA in September 2020 and closed 19 outlets, fell to an annual adjusted EBITDA loss of £5.1m, down from an EBITDA profit of £5.8m.
Despite the contraction, Yo opened 17 supermarket kiosks in the UK during the year to take its total number to 52.
Snowfox's dedicated retail brand Taiko, which is responsible for pre-packed grocery sushi and as well as supermarket kiosks, grew sales 12.7%, despite the drop in footfall, to £20m.
The uptick was partly driven by the opening of 37 new sushi kiosks in Asda, depsite these shutting and depleting sales during lockdown, and the securing of new pre-packed contracts.
Taiko cut its adjusted EBITDA loss to £737k from £1.1m in the previous financial year and profitability is forecast to grow as kiosk operations mature and production efficiencies kick in.
The overall Snowfox group saw an adjusted EBITDA loss edge up from £16m to £17.1m.
The results come as reports suggest Yo's PE owners Mayfair are considering IPO options for the Snowfox group, with its North American Bento and Snowfox arms having performed more strongly during the Covid period because of their grocery bias.
A spokesman for Snowfox said: "Over the past two years, the Snowfox Group has continued to make strong progress, becoming a market-leading multichannel Japanese food business in the UK and North America.
"During the year to November 2020, our Yo restaurants were impacted by industry-wide factors related to the pandemic. Since that period, our restaurants have successfully reopened.
"The Japanese food market is large and growing, and we now serve over 50 million customers a year, fulfilling increased consumer demand for in-store kiosk and quality pre-pack products, as well as via our restaurants."