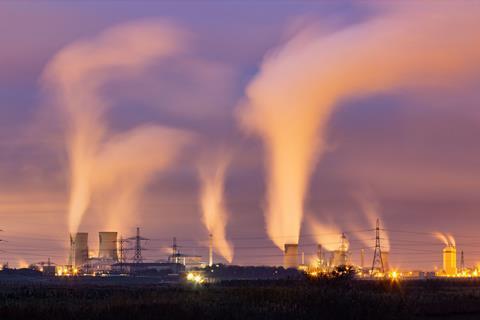 Recurring CO2 shortages will be avoidable if better use is made of the alternative technologies now available, energy and technology experts have claimed.
The UK is in the midst of its second carbon dioxide shortage in less than three years, prompting widespread concern food supplies could be affected.
Last week US-owned CF Industries shut its two sites in the UK, which produce 60% of the food industry's carbon dioxide, because of a sharp rise in gas prices.
Despite a government deal to restart production at one site, carbon dioxide prices are now set to rise five-fold from £200 to £1,000 per tonne, Defra secretary George Eustice confirmed.
But the problem is not necessarily a shortage of carbon dioxide, experts explained, but rather that better use must be made of the gas already being emitted.
"There are more than enough sources of CO2," said Jon Gluyas, executive director of Durham Energy Institute. "Some may require a bit of clean-up but others, like cement production, would require almost none at all to make it food grade. Food-grade CO2 is just high purity. It's not technically demanding."
The UK produced over 326 million tonnes of carbon dioxide in 2020, of which less than 0.2% was used by the food industry, Gluyas said. Yet with carbon capture for power stations and hydrogen production moving ever closer, "there will be more than enough CO2 for food".
Read more:
Defra officials told an industry meeting this week that only CF Industries' Billingham plant would reopen this week because of its carbon capture capabilities. CF Fertilisers received £510,000 in funding from the UK government in March to help develop the technology at its site.
The shelf-life of fresh foods could also be boosted by greater adoption of new technologies such as needlepoint bi-polar ionisation (NPBI), according to Bradley Watkins, director at Clenzair.
The process converts oxygen molecules into charged atoms that cluster around microparticles and deactivate harmful substances such as mould, bacteria and allergens. The process can extend the shelf life of food by up to seven days and while its popularity has surged in the US, its take-up in the UK is limited, said Watkins.
"The UK is way behind the curve on this," he said. "These technologies can't solve all the issues surrounding shortages in CO2 but they can make a big impact."
Researchers are also keen to explore the possibilities of using nitrogen to replace certain amounts of Co2 in food packaging. CO2 is primarily used for its anti-microbial effects although there has been a lack of research since the 1980s on the topic, said Lynneric Potter, a food packaging specialist at Campden BRI. This has left uncertainties over whether new packaging compounds could allow for different gas mixes and a possible reduction in CO2 use.
Campden BRI tried to launch a study into reducing the use of CO2 in packaging after the last shortage in 2018. However it did not receive sufficient interest from the food industry for it to go ahead.