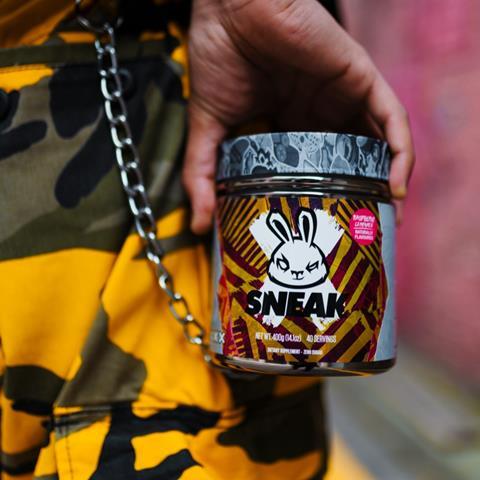 DTC energy drink challenger Sneak has sold a majority stake in the business to a global investment firm to support its expansion in the category.
Founded by Will Peirce and Jonny Teeling in Manchester in 2018, the brand sells a range of sugar-free, clean-label powdered energy formulas in tubs and sachets, as well as pre-mixed cans, using natural colours and flavours.
Sneak has gained a consistent following as a disruptor in the energy drink space and has recorded growth of more than 200% annually in the past three years.
The business forecast sales would hit £30m next year.
With backing from investment firm True, Sneak plans to build its distribution channels and explore retail options, as well as further scale the brand in e-commerce and expand overseas. Currently more than half of Sneak's customers are in the UK, with a third in the US.
"The team at True seemed to get us and the Sneak brand straight away," said co-founder Jonny Teeling. "They place people and culture at the top of the priority list, which was highly important to us and overall, they seem very different, and more human, to how we'd imagined private equity investors to be."
True co-founder Paul Cocker added the investment firm would use its digital expertise and international network across grocery and retail to help Sneak with the next stage of growth.
Sneak joins True's portfolio of disruptive consumer brands that include virtual fitness community Zwift, healthy food group Soulfresh, women's loungewear hush, organic kidswear label Frugi, British cycling brand Ribble and online furniture retailer The Cotswold Company.
True was advised by Stephens, Jones Day and PwC. Sneak was advised by Spayne Lindsay, Addleshaw Goddard and KPMG.
Addleshaw Goddard partner Richard Hunt said: "Northern enterprise has developed at pace in recent years, with some of the most well-known brands leading the way in the digital revolution – and Sneak is one of those disruptors.
"Sneak developed products that were a healthier alternative to existing energy drinks and have grown exponentially in just three years both in the UK and internationally. This funding tranche is testament to Jonny and Will's vision and entrepreneurial creativity in establishing Sneak as a disruptor brand and will cement its position as a market-leader in this space."