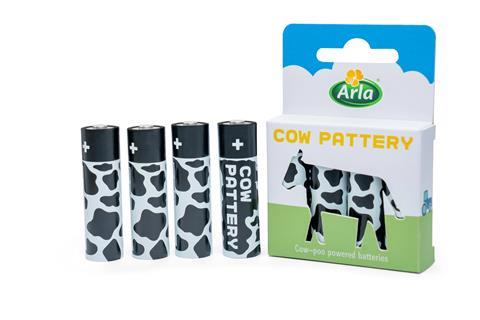 Arla Foods is calling for 'poo power' to be explored as a source of renewable energy.
The dairy co-op has created limited-edition AA rechargeable 'Cow Patteries' powered by electricity sourced from cow waste in a bid to raise awareness of the "untapped potential" across Britain's dairy farms in helping drive the nation towards renewable energy targets.
And it believes cattle excrement could help the UK achieve its 100% renewable energy target by 2035.
With the UK currently facing soaring energy costs, it described cow slurry as "consistent and reliable" and insisted the scaling up of sites dedicated to anaerobic digestion – the process used to turn cow waste into energy – could provide new opportunities to power homes and transport across the UK.
Currently, the dairy giant has 460,000 cows – which it claimed could provide enough power each year to fuel over 1.2 million UK homes – while the yearly poo count of a single animal could fuel three households a year, it suggested.
Arla added the conversion process also had the additional benefit of generating a byproduct that could be used as a natural fertiliser. More than 1.2 million tonnes of cow slurry is produced annually from Arla's 2,240 farms alone, which could generate enough green energy to power 4% of UK households, it said.
"There is so much potential for innovations such as anaerobic digestion to contribute to the UK's renewable energy needs whilst reducing farm emissions with something readily available on our farms – poo," said Arla farmer Neil Ridgway.
"On my farm, we already use the energy produced from cow slurry to power our entire estate, but this could go so much further. We are even able to use the byproduct of the process as a natural fertiliser on our land and thereby closing the loop – it's a win-win situation."
Arla's comments come a year after it announced a three-month trial last year to use manure from 500 cows to create 27,000kg of biofuel to power two specially adapted dairy tankers – a move it predicted would reduce its carbon impact by 80 tonnes.
Arla group agriculture director Graham Wilkinson said the trial had been a "big success", but added it had only "scratched the surface".
"Arla farms are home to around 460,000 cows that provide a steady source of slurry that can be turned into power that has the potential to make a considerable contribution to Britain's renewable energy quota," he said.
"A small number of our farmer-owners are already turning cow poo into energy. If the government and the energy industry could see the potential, the scaling up of cow power could be a game-changer for the UK's renewable energy supply whilst also helping reduce emissions in farming."