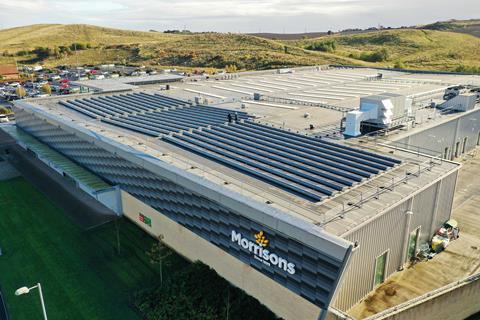 Morrisons is building a solar panel network as part of a new net zero pledge.
The retailer has brought forward its goal to become net zero across its own operations to 2035 – five years earlier than originally planned.
As part of the pledge, Morrisons will own and operate its own "solar farm", which will be comprised of 230,000 panels and span across nearly 125 acres.
The solar panel network is being built on top of two-thirds of Morrisons stores and sites, and is set to be completed by 2025.
Once finished, it's estimated it will produce over 100 megawatts of electricity to supply approximately 20% of the power to the stores and sites it sits on.
The energy generated by the solar panels will be used to power Morrisons store appliances that require higher levels of energy, such as fridges and freezers.
The new infrastructure is expected to reduce 21,000 tonnes of CO2 a year.
The retailer has also committed to reducing its Scope 3 carbon emissions across the entire own-brand supply chain by 30% by 2030.
Morrisons CEO David Potts said the company was committed to actively removing carbon emissions rather than setting a carbon target "that would depend heavily on offsetting".
"The climate crisis is the greatest challenge of our generation – and the time is now. As a supermarket we depend on a healthy planet to produce the goods we sell to customers," Potts said.
"Our new solar farm and net zero carbon agriculture programme are just two ways we'll achieve our commitment."
Morrisons is currently working with supply chain partners to make sure it is directly supplied by net zero carbon British farms.
To achieve that, the grocer is planning to help its suppliers audit and reduce their own CO2 emissions.
Other initiatives to reduce carbon emissions include using low-carbon vehicles and offering EV charging, and reducing food waste and ensuring zero deforestation across its supply chains.
Morrisons is in line to reach its previous commitment to slash carbon emissions by one third by 2025 – with the current reduction rate at 32%.
This means it has saved nearly 300,000 tonnes of CO2 since 2017.
Morrisons' announcement that it was to bring forward its net zero target follows a similar move by Sainsbury's this week.