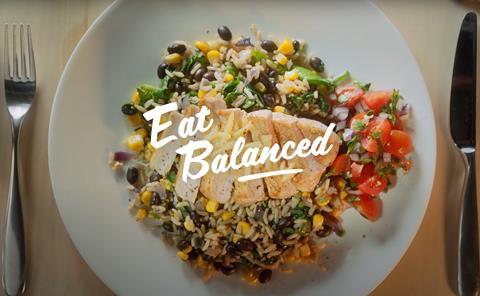 The Advertising Standards Authority has rejected a complaint over an AHDB advert which linked red meat and dairy consumption with healthy eating.
The £1.5m 'We Eat Balanced' campaign, which ran across TV, print and social media during January and February 2021, reached up to 18.5 million people, AHDB said, and played up the sustainability credentials of UK producers.
Designed to "remind consumers of the role red meat and dairy play in a balanced diet", according to the levy board, the campaign's key message centred around the claim vitamin B12 and protein were naturally occurring in red meat and dairy, while B12 in particular also helped "reduce tiredness and fatigue".
These were "essential nutrients our bodies need to help us stay healthy" the ad voiceover stated, while a separate website advert also claimed B12 was "not naturally present in the vegan diet".
AHDB said the ad was nominated for an FDF 'Campaign of the Year' award. However, it also attracted 487 complaints, with objections from bodies such as Compassion in World Farming UK and from pro-vegan groups including the Humane League UK, The Vegan Society, Peta and Viva.
The ASA said the complainants challenged whether the ads were misleading "because they implied that consumption of meat and dairy was required in order to eat a healthy, balanced diet when there was evidence to suggest that was not the case".
A second complaint took issue with claims which that "misleadingly implied that consumption of meat and dairy was required in order to obtain vitamin B12", the ASA ruling revealed.
Meanwhile, a third said the ad "misleadingly implied that livestock used for meat in the UK were typically outdoor grazed and had a minimal environmental impact, when that was not the case".
But in a lengthy response, the ASA referenced AHDB's use of qualifying statements to "promote a varied diet and to clarify that meat and dairy consumption was not required", as it ruled the complaints would not be upheld.
"We understood that meat and dairy products contained sufficient quantities of vitamin B12 and protein that the nutrition and health claims included in the ads were permitted to be made," the ASA judgment said.
"Overall, we considered that the ads would be understood by consumers to mean that essential nutrients required for humans could be obtained from meat and dairy foods as part of a healthy and balanced diet," the ASA added, while adding the campaign "did not give a misleading impression that meat and dairy were required for a healthy and balanced diet".
Responding to the "landmark" ruling, AHDB's chief communications and market development officer Christine Watts said it was "important day" for British farming "as we can continue to communicate the benefits around consuming red meat and dairy as part of a balanced diet".
She added: "We are delighted with the ASA's ruling and grateful for the careful consideration they gave to all the points which were raised.
"We work hard to ensure our campaigns are robust and evidence-based. We are now focused on preparing for the next stage of our campaign, which will launch later this year, tapping into consumer trends around diet, health and environmental sustainability."