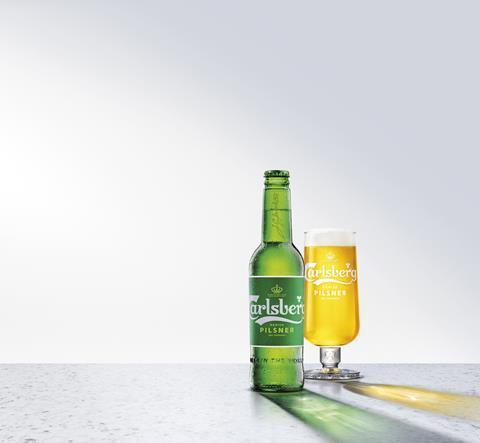 Top story
Carslberg is the latest brewing giant – following on from Heineken and AB InBev – to report a strong recovery throughout 2021 as pubs and bars reopened following long periods of lockdown. The group this morning raised its profits expectation for 2021 as a result.
Organic revenues in the six months to the end of June jumped 9.6% to DKK 31.7bn (£3.6bn) – climbing 14.3% in the second quarter of the half as Covid restrictions began to ease more fully.
Volumes across the Danish brewer's portfortlio were buoyed by the recovery of its on-trade business, with Tuborg up 28% in the half, Carlsberg up 2%, Somersby up 17%, craft and speciality brands up 21% and alcohol-free brews up 26%.
Carlsberg's online business also continued to grow in the half, with revenues 30% higher despite going up against strong figures from a year ago.
The recovery led to organic operating profits growth of 15.6% to DKK 5.1bn (£585m) in the period.
Carlsberg warned that the Covid pandemic continued to impact the business performance, with market volatility and incertainty remaining high, especially in Asia where restrictions returned amid a new wave of the virus.
However, thanks to the "good results" in the first half and trading so far in the third quarter, the group has upgraded its earnings forecast for the year.
It now expects organic growth in operating profits within the range of 8-11%, up from 5-10% previously.
CEO Cees 't Hart said he was "very satisfied" with the "strong" set of results despite the continued market uncertainty.
"Top-line growth, operating margin improvement and significantly higher cashflow demonstrate the strength of our geographic footprint and brand portfolio, and the strong execution of our initiatives to safeguard the short-and long-term health of the Carlsberg Group," added.
"The resilience of our strategic priorities is further evidenced by overall figures for H1 2021 being ahead of H1 2019, on a like-for-like basis."
"Across many markets, people and businesses unfortunately continue to be impacted by the Covid-19 pandemic. Although we see a gradual return to a more normal environment in markets across Europe, other markets, particularly in Asia, remain subject to severe restrictions due to new waves of the infection."
"While the uncertainty about the remainder of the year continues, we're satisfied with the strength of the H1 results and the good start to Q3, enabling us to upgrade the earnings guidance for the year and launch the third quarterly share buy-back programme."
Morning update
The markets continued on their quiet summer run, with the City still waiting to hear whether CD&R will raise its bid for Morrisons before Friday's 5pm takeover deadline.
Inflation in the UK fell back last month as shops lured customers back in with summer sales following the end of lockdown restrictions.
The Consumer Prices Index (CPI) slowed from 2.5% in June to 2% in July, which is in line with the Bank of England's target.
It follows prices rising for two consecutive months, with the slowdown driven by discounts for clothing and footwear.
The FTSE 100 edged 0.1% higher to 7,185pts first thing this morning.
Early risers included Hilton Food Group, up 4% to 1,186p, and Just Eat Takeaway, making further gains on yesterday.
Among the losers so far were Nichols, down 2.7% to 1,357p, Hotel Chocolat Group, down 1.7% to 368.5p, and Virgin Wines, down 1.7% to 221.1p.
Yesterday in the City
The FTSE 100 made ground yesterday, rising 0.4% to 7,181.11pts.
Investors reacted positively to news that sales at Just Eat Takeaway had soared more than 50% in the first half as consumer demand proved more resilient than feared in face of the ending of Covid restrictions. Shares in group jumped 2.9% to 6,310p.
Rival Deliveroo also continued its extraordinary recovery to climb 0.3% to 390.1p – the price it floated at back in March. The shares are now up more than 30% in the past month.
Other risers yesterday included Hotel Chocolat Group, up 4.2% to 375p, PayPoint, up 3.7% to 665p, and Bakkavor, up 1.9% to 119p.
Losers included Parsley Box, down 2% to 126.5p, Virgin Wines, down 1.7% to 221.1p, and Domino's Pizza Group, down 1.2% to 412p.