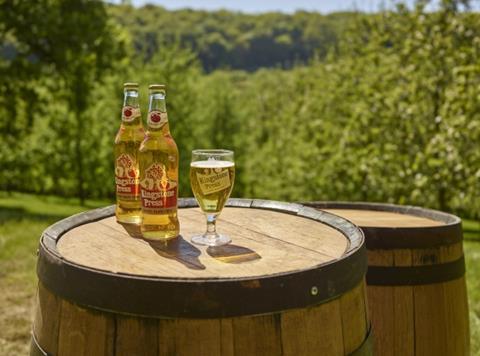 Cidermaker Aston Manor has posted a record performance in 2020, despite the hospitality sector battling mass disruption throughout the pandemic.
Revenues increased 12.4% to £154m in the "toughest trading year" in its 40-year history as the booze supplier made significant changes to its product mix across different formats.
Aston Manor, which makes the Frosty Jack's, Kingstone Press, Crumpton Oaks, Friels Vintage Cider and Malvern Cider Co brands, alongside private label and contract packaging, said the performance pointed to the flexibility and capability in the business made possible by a consistent programme of investment over several years.
The group invested a further £6.6m in 2020 to install a new packaging line and related works to reduce energy usage and transport movements at the Aston site.
The new line "greatly enhanced" the capability to pack different products in cans of different sizes and also with different shape profiles, Aston Manor added.
CEO Gordon Johncox said: "The whole hospitality sector has had to close for extended periods and has suffered terribly since March 2020.
"In the take-home sector, there was considerable disruption at the outset and during the three lockdowns everyone experienced. And whilst some of the sales lost in the hospitality sector did switch to supermarkets and other stores, alcohol sales were markedly down in both 2020 and so far in 2021."
The net effect of the pandemic increased expected costs for the year, with operating profits matching the figure for 2019 at £2.6m.
The total number of products made increased by 9.7% versus 2019, representing a 7% increase in the volume of Aston Manor cider in the UK and in export markets.
"We pride ourselves on our teamwork and being ambitious in what we can achieve, though even with high standards, the response throughout 2020 and since has been remarkable," Johncox said
"I am enormously proud of how people in all parts of Aston Manor stepped up in the face of a trading environment never encountered in our history.
"We continue to invest in our focus areas of product quality, sustainability, and manufacturing excellence. And we will develop new drinks and target new markets to ensure we remain a flexible, capable and successful business."