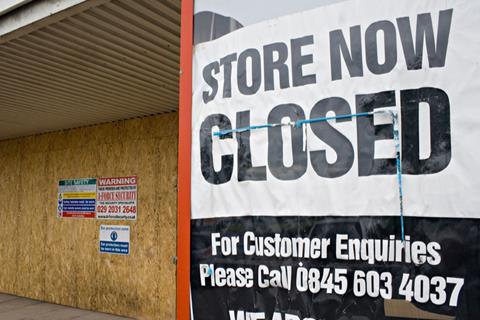 The BRC is calling on Rishi Sunak to use the autumn Budget to deliver business rates reform needed to save thousands of shops from closure.
In a Budget submission to the chancellor, the industry body has called for a one-year 30% reduction in business rates liability for retail. The 'bridging relief' is needed to bring the tax for 2022-2023 more in line with current rents, which have fallen dramatically compared with rents in 2015, on which business rates bills remain based, the BRC said.
The submission renews the consortium's call for the government's ongoing 'fundamental review' of business rates, which is due to conclude this autumn, to permanently reduce the £8bn tax burden on the sector. It wants an end to the requirement for the rates to raise a fixed sum, allowing the tax to "flex in line with economic circumstances as all other taxes do".
The BRC has also reiterated a call for an end to so-called 'downwards phasing', which limits how quickly a shop's rates bill can fall following a revaluation of its liability. It cost retailers over £500m between 2017 and 2020, according to the industry group.
A recent BRC survey of major retailers found four out of five would be forced to close stores without a substantial reduction in the tax burden.
The BRC's call comes as a new report commissioned by retailers including Tesco, Sainsbury's, Morrisons and Co-op claims reducing business rates could promote the government's 'levelling up' agenda by providing a boost to economically deprived regions, disproportionately in the north.
Like the BRC, the report – called 'Cutting the shops tax' – recommends a reduction in business rates for retail as soon as possible and calls for an announcement in the Budget.
The report, conducted by WPI Strategy, says further shop closures and job losses will be most acutely felt in the north of England, Midlands and Wales – regions most in need of 'levelling up'.
"The evidence is clear: business rates are costing shops and jobs and undermining the government's 'levelling up' agenda," said BRC CEO Helen Dickinson.
"Retail is the UK's largest private sector employer and serves as a vital lifeline to places most in need of levelling up, offering flexible jobs, supporting other businesses on the high street and breathing life into local communities.
"The business rates review is a great opportunity for government to put the 'shops tax' into reverse, and support investment and growth in the regions that need them the most."
The autumn Budget is due to take place on 27 October.