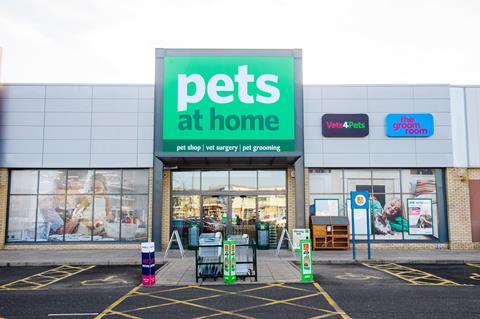 Top story
Pets at Home Group CEO Peter Prichard is to leave the retailer after 11 years with the business.
He will step down from the role next summer following what the group called "a successful turnaround".
Prichard will remain as CEO until late May 2022 to oversee the presentation of the group's 2022 preliminary results to investors and to ensure a smooth transition period to his successor.
Pets at Home is looking at both internal and external candidates to replace Pritchard.
This morning's statement said the group was "thriving" under Pritchard's leadership, with the share of the pet care market growing significantly in the four years since he took charge.
Chairman Ian Burke added: "On behalf of the board and colleagues across the group, I would like to thank Peter for his significant contribution to Pets at Home since becoming CEO in 2018. His tireless work and dedication as leader of this great business has given it a very firm foundation for growth long into the future, for which we are all very grateful. We will all be very sorry to see Peter go, and he will leave us next summer with all our best wishes."
Pritchard said: "I have loved my time at Pets at Home. It is a privilege to lead such a talented and passionate group of colleagues on this journey and I am incredibly proud of the results we have collectively achieved. We are the market-leading pet care business which, supported by a highly capable executive management team, has really good momentum and is primed to continue growing its share of market for many years to come.
"Having completed everything that I set out to achieve in 2018, next summer is the right time to take well-earned rest and to hand over the reins to a new leader who will continue this journey in becoming the 'Best Petcare Business in the World'. I would like to thank the board for their support, and I look forward to maintaining the strong momentum in the business through the next few months and working with them to find and appoint a suitable successor."
A short trading update also revealed that the strong performance in the second half of last year had continued throughout the past six months.
Based on trading year to date, the board now expected that group underlying pre-tax profit for the 53 weeks to 31 March 2022 would be at the top end of the current range of analyst expectations, ahead of previous guidance.
Despite the upgrade, shares slumped 1.6% to 491.4p as markets reacted to news of the CEO departure.
Morning update
Sales at Coke bottler Coca-Cola HBC have fizzed higher as the out-of-home channel reopened and tourists started to return to holiday destinations across Europe.
The group reported revenue growth of 17.1% in the third quarter, with a sharp acceleration on pre-pandemic figures, closing 16.8% up on the same period of 2019.
Overal volumes increased by 13.1% in the three months, with the out-of-home channel growing by 20% (10% above 2019 levels), while the at-home figures were up 10% in the third quarter.
Coca-Cola HBC said its sparkling portfolio continued to gain or maintain share in the majority of markets.
Sparkling volumes grew by 13.1% in the quarter, with adult sparkling brands up 27.5% and low/no sugar variants up 54.6%.
It also reported broad-based growth across brands, with trademark Coke up 11.7%, Fanta up 13.6% and Sprite up 18.1%.
Energy continued to show momentum, with volumes up 29.4% in the quarter, and broad-based strength across the portfolio of brand, including Burn, Monster and Predator.
Water volumes grew by 12.4% in the quarter, benefiting from the reopening of the out-of-home channel, while juice volume was up 14% and ready-to-drink tea volume grew by 6.5%.
CEO Zoran Bogdanovic said the performance was due to the strength of the '24/7 portfolio', revenue growth management capabilities, the adaptability of its route-to-market and to the agility of the staff.
"In the current inflationary environment impacting all industries our revenue growth management tools, as well as our ability to take price in the context of robust insights and analytics, will be critical," he added.
"Our actions in 2021, as well as the plans we have for Q4 and beyond will help us to mitigate the current challenging cost environment. I am pleased to reiterate our guidance for 2021 of a strong recovery in FX-neutral revenues and a 20-30bps EBIT margin expansion."
Shares in the group slipped 0.5% to 2,593p as investors worried about the challenges of the inflationary environment.
The FTSE 100 opened down 0.2% to 7,263.50pts this morning.
Early risers included HelloFresh, Delivery Hero and Hotel Chocolat Group, while Naked Wines, McBride and Bakkavor joined Pets at Home and Coca-Cola HBC as early fallers.
Yesterday in the City
The FTSE 100 dipped by 0.2% yesterday to 7,274.38pts.
There wasn't a great deal of company news to drive share prices yesterday. However, meal kit delivery firm HelloFresh soared 17.4% higher to €82.42 after it upgraded its full-year forecasts once again as consumer demand held firm. Total sales jumped 45% to €1.4bn in the third quarter. The company's shares are up 30% in 2021 so far.
Elsewhere, Naked Wines rose 8.7% to 750p and Vimto maker Nichols was up 3.6% to 1,145p.
THG had another stinker of a day, falling to fresh lows after news emerged that BlackRock sold off half its stake in the group amid continuing concerns from investors. Shares plummeted another 8.8% to 198.3p, meaining the company has lost more than 75% of its value since a January high of 800p.
Other fallers included Virgin Wines UK, Parsley Box Group, Glanbia and SSP Group.