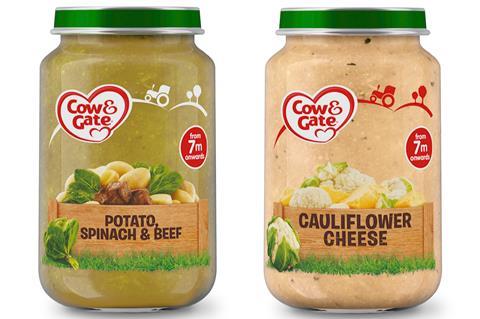 Danone has quietly taken its Cow & Gate brand out of babyfood jars, pouches and dairy pots.
The brand has discontinued a slew of its products in the UK and Ireland, and has been steadily pulling lines since February – largely removing it from the babyfood category.
A spokeswoman for Cow & Gate told The Grocer the brand was "always reviewing our product range to make sure it meets the latest consumer trends in the UK and Ireland. We work with retailers and parents to understand their changing needs, which helps us develop innovative new products".
It was "not a decision we have taken easily as we know that this may have an impact on our customers", she added.
"We are maintaining our other popular ranges of milks and foods and there will be no change to our baby milk, rice, cereals, muesli and fruit cup products, which remain on sale in all major retailers," she said.
It comes after the brand suffered a plunge in sales over the first year of the pandemic as a growing number of parents took to preparing their tots' meals from scratch. In the 52 weeks to 5 September 2020, Cow & Gate lost 15% of its retail value, dropping £5.8m to £32.8m [NielsenIQ].
Prior to the pandemic, in January 2020, the brand had also been forced to recall a swathe of its jars from Tesco amid fears of tampering.
However, Cow & Gate has continued to grow its range of formulas and milks over 2021.
In February, for instance, the brand added a trio of formulas it claimed were the only range available in major UK retailers to be produced with natural A2 protein milk. The milk came from "carefully selected" cows that naturally produced only A2 beta-casein protein, said the brand.
This was the "original beta-casein protein in cows milk thousands of years ago".