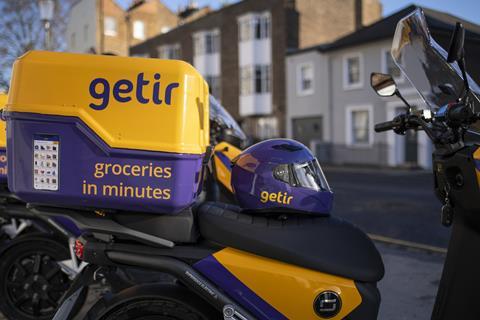 The influx of demand for dark stores from ultra-fast delivery operators such as Getir is driving "huge" increases in rent for urban industrial assets, according to a new report.
Within London, areas such as Newham, Tower Hamlets and Southwark are forecast to see rent growth in excess of 7% for industrial assets this year.
The effect is also spreading beyond the capital, with the highest rent growth, at 7.8%, forecast in Sheffield. It's one of a number of UK cities Getir has been expanding to beyond London since July.
Getir is among several high-speed grocery operators to launch in the UK this year, offering delivery in as little as 15 minutes. Other recent arrivals in the space include Gorillas, Dija, Weezy, Zapp, Fancy and Asap.
Take-up of space from the 'dark supermarkets' has slowed as they near their current targets but continues to drive fierce competition for suitable units, according to real estate consultancy Knight Frank.
Knight Frank logistics and industrial associate Tom Kennedy said sites sought after by the dark store operators were typically between 2,500 and 5,000 sq ft.
"We've seen a lot of railway arches being used in inner-London locations," said Kennedy. "In locations with the ability to hit a consumer within 10 minutes they have fundamentally changed the logistics and industrial market."
While traditional retail units remained "too expensive for them", some dark store operators had taken "basement" space in shopping centres, Kennedy added. "It's helping the shopping centres use dead space," he said.
In addition, Getir has recently acquired around 100,000 sq ft over three buildings at Waltham X industrial park, while Zapp has taken 25,000 in West London's Park Royal, according to Knight Frank.
The demand is also driving down vacancy rates for urban logistics units under 100,000 sq ft, to 3.1% in greater London and 1% in Manchester, compared with a UK-wide 5% for larger units.
According to Knight Frank's report, called 'Future Grazing – The Future of Urban Logistics', an additional 12 million sq ft of last-mile fulfilment space will be required over the next five years as the market grows.
However, "meeting that level of demand in the locations where it is needed seems unrealistic", said Knight Frank industrial research lead Claire Williams.
"Availability in urban areas remains highly constrained and rents are rising. Instead, retailers and logistics operators are having to look at creative ways to repurpose properties to service last-mile fulfilment, or at ways to improve their operational efficiencies and use of space, through automation."