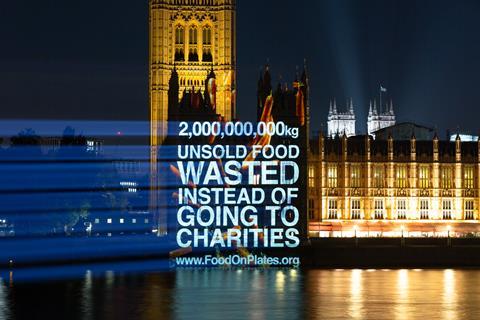 Food redistribution charity FareShare projected falling carrots over the Houses of Parliament as part of a campaign to get government to extend its food waste funding.
FareShare, in partnership with political campaign group Led By Donkeys, beamed images of thousands of falling vegetables onto landmarks across London on Monday night – including Westminster and 10 Downing Street.
The stunt, which highlighted the amount of fresh food wasted on UK farms every year, took place ahead of the International Day of Awareness of Food Loss and Waste on Wednesday, 29 September.
"We want the government to create support for farmers and growers that will enable them to divert surplus food for social good," FareShare's CEO, Lindsay Boswell, told The Grocer.
"We're using the International Food Loss and Waste Day as a further stepping stone in trying to ratchet up our campaign."
The charity network has been urging the government to renew a landmark funding that enabled farmers to safely redistribute unsold food to charities and community groups in need.
The £5m yearly Food Waste Fund was launched in 2018 and helped cover the costs for farmers to safely store and transport surplus food to charities, but it was axed after just one year.
FareShare said that, without the funding, around 53 million meals worth of food a year will be "needlessly wasted".
"We know the conversations that have taken place with ministers within Defra all say, 'we completely understand the logic of this, we just got to work out where it is funded from.'"
Boswell added that he was aware one of the main problems was to get the funding noticed since £5m wasn't "a big amount".
"We're pushing hard on trying to get to a place where the government make an announcement to coincide with the run up to COP26."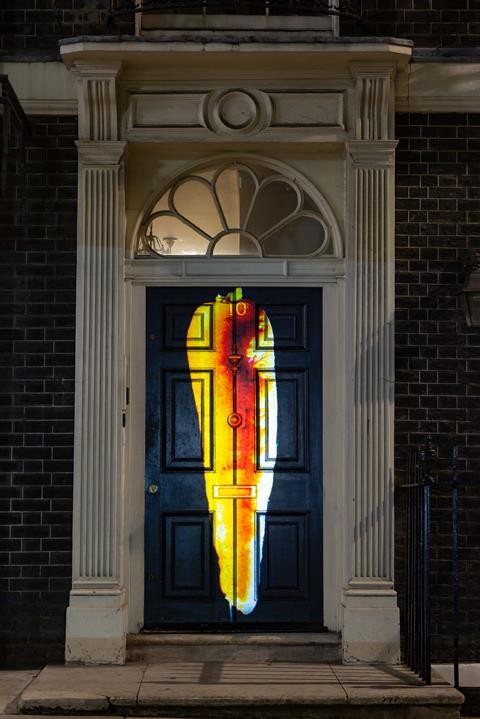 According to Wrap estimates, around two million tonnes of fresh, unsold food is wasted on British farms and in factories every year.
Read more: FareShare urges government to extend Food Waste Fund with new campaign
FareShare also recently launched a new campaign, #FoodOnPlates, which calls on members of the public to email their MPs and sign up to a letter to the prime minister asking them to support the funding extension.
The campaign is backed by Michelin-starred chef Tom Kerridge, who said: "Wasting food is always wrong, but on this level it's a scandal.
"If farmers and food producers aren't able to sell their food it should be going to the frontline charities who are crying out for it, not being dumped back into the ground."
FareShare estimates around one in eight people in the UK struggles to afford food and that current demand from charities supporting families and children still remain at pandemic levels.
"We're calling on the government to show leadership on this important issue and reinstate this vital funding to get food onto people's plates," Boswell added.
"All of the phrases that the government uses like 'build back better' and 'levelling up' – food is a fantastic way of making sure that nobody gets left behind."