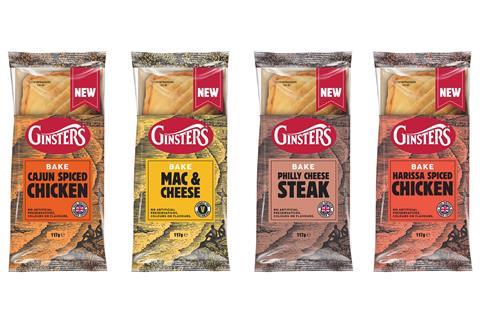 Ginsters is launching a new range of Bakes inspired by American and North African fusion cuisine.
Four flavours – Cajun Spiced Chicken, Philly Cheese Steak, Mac & Cheese and Harissa Spiced Chicken – will roll into supermarkets from 11 October (rsp: £1/117g).
The snacks contain 100% British farmed meat, with no artificial ingredients, and can be eaten hot or cold.
They would appeal to younger shoppers looking for easy on-the-go options and tap the demand for "on-trend world flavours", said Ginsters.
The new concept and flavours would drive trial and incrementality, attracting additional savoury pastry shoppers to the category, it added.
Ginsters MD Sam Mitchell said the snacks were "the perfect tide over" for pre-family consumers.
"Perfectly portioned as a light bite between mealtimes – whenever that might be – Ginsters Bakes provide more opportunity for retailers to reach shoppers across the day," Mitchell said.
Ginsters is also launching a limited-edition Festive Chicken & Stuffing Slice into supermarkets from 18 October (rsp: £1.70/170g).
In March, it partnered with Guinness to launch a Smoky Steak & Guinness Slice for St Patrick's Day.
The snack, which combined 100% British-farmed beef with potato, vegetables, black treacle, garlic, gravy and Guinness, would tap the "fast-growing" demand for premium flavour experiences, it said.