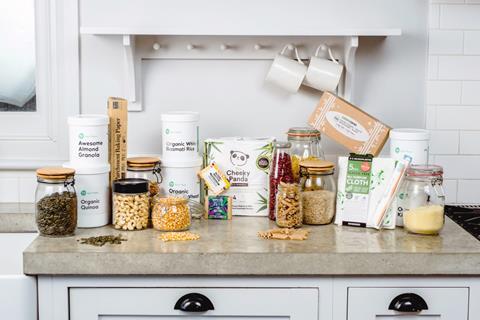 Zero-waste online supermarket Good Club is crowdfunding to expand its refillable product range and operations.
The company is planning to increase its zero-waste range of products – which are delivered via carbon neutral courier in reusable delivery boxes and collected the next day along with decanted reusable packaging – from 150 to 500 lines in the next six months.
The money raised will be used to improve its operational site and processes, "which will create new efficiencies and improve the service" Good Club said.
"With the funds raised, we can make zero-waste shopping a reality for many more households and build solutions that are practical for every home," said co-founder Ben Patten.
Its zero-waste range will make up 50% of total sales by mid-2022, the company predicts.
Investors can back the company with as little as £10 when the crowdfunding round opens, which is expected imminently.
Since being founded in 2019 by Patten and Danny Blackman, members-only Good Club has reported sales growth of more than 2,000% in the last two years.
Good Club's closed-loop zero-waste service launched in January. The company says sales of the range have already saved more than 150,000 pieces of single-use plastic.
"The additional funding will be used to make our operations much more efficient as well as making many more products available in reusable packaging," said Patten.
"The direct impact of plastics on marine life and ecosystem health is what first started us on this journey. What's become more apparent over time is the huge carbon impact of grocery packaging – it is on track to emit more than the aviation industry does now. We therefore need to speed up the transition to more sustainable packaging solutions," he added.
Although Good Club's proposition is similar to that of reusable packaging platform Loop – which launched online with Tesco in July and in stores last month – Good Club says it is "very different" in that it only sells sustainably produced products.
Tesco's Loop refillables aisle launched in September across 10 stores, featuring 88 branded and own-label products in reusable and durable packaging.
Patten said Good Club's model of collection from customer homes "is the most convenient way for a household to return reusable containers".
"We bring a milkman model to every street," he added.