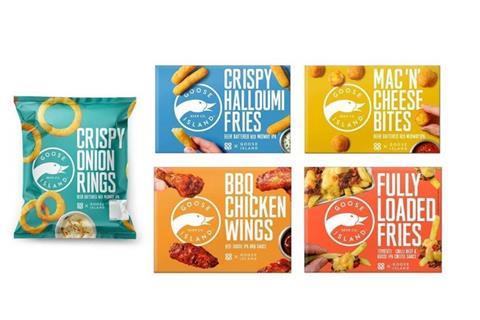 Goose Island is making its frozen foods debut through an exclusive tie-up with The Co-op.
The collaboration will see a range of frozen bar snacks inspired by the flavours of Goose Island's IPA launch into the retailer this month.
It includes five "finger-food favourites": onion rings, halloumi fries, mac 'n' cheese bites, barbecue wings and loaded fries (rsp: £2.50/200g-400g).
The onion rings, mac & cheese bites and halloumi fried rolled out this month, with the chicken wings and loaded fries to hit shelves from November.
As their recipes feature Goose IPA and Midway Session IPA they were "an ideal pairing" to the beers, said the brand.
"This is an exciting new frontier for both Goose Island and Co-op, showing how well food and beer pair together and offering consumers a convenient solution to try this," said Goose Island marketing manager for Europe Fred Nesbitt.
"We grow our own hops at Goose Island, and their unique flavours add a differentiating element to the frozen category," he added.
Co-op head of frozen Rebecca Oliver-Mooney said: "I'm looking forward to seeing how shoppers enjoy this new range and where we can take it next, as well as exploring how we can partner with other brands just as successfully in future."
To support the collaboration, five Co-op stores will host a Co-op x Goose Island takeover, featuring promotional materials, including front-of-store totems, floor vinyls and window stickers.