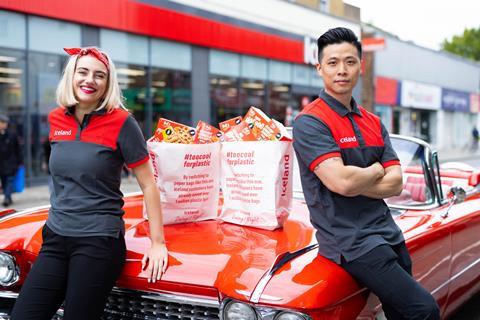 Iceland has introduced 250 new lines, including a number of brand exclusives, in what one trading manager called its "biggest-ever frozen new product launch".
The exclusive new brands include restaurant chains Ed's Easy Diner and Piccolino. Cathedral City ready meals, Mary Berry desserts and new own-label lines are also among the products landing in Iceland and Food Warehouse stores today.
There are also exclusive new crisps in frozen format from McCoy's and Hula Hoops.
Cheese & Tomato Pizza, Classic Hot Dog and Double Cheeseburger are among the 19 lines from fast food chain Ed's Easy Diner. Iceland has been pushing the Ed's Easy Diner launch with a publicity stunt in which a classic 1950s Cadillac was used as a 'delivery van' at its Fulham store.
Iceland has yet to officially announce the other 231 new lines, but the trading team has been talking about them on LinkedIn.
The Piccolino lines include Margherita Pizza and Garlic & Cheese Flatbread. There are two new and exclusive desserts from celebrity chef and baker Mary Berry – a Toffee Apple Pudding and Sticky Ginger Pudding – with more set to follow.
Elsewhere in desserts, Butterkist ice cream sticks have been added to the range. "In store today as part of [our] biggest ever frozen new product launch Butterkist sticks are exclusively available at Iceland & The Food Warehouse," a trading manager wrote on LinkedIn this morning.
Cathedral City ready meals include Mac 'n' Cheese, Cheesy Mash and Cauliflower Cheese.
Other exclusive new brands include Arctic Royal, with a range of frozen seafood such as Salmon Fillets and Cooked Jumbo King Prawns.
In own label, a new Luxury Roast selection has been created in "one of the largest range changes on frozen meat and poultry for several years", another trading manager wrote on LinkedIn. The lines include Ultimate BBQ Beef Rib, Ultimate BBQ Pork Ribs and a Honey Glazed Gammon Joint.
There are also new own-label two-for-£5 'meal centres' such as Creamy Garlic Chicken Breasts in Blankets and Sweet Chilli Chicken Breast Mini Fillets.
The frozen crisps include four McCoy's flavours along with Salt & Vinegar Hula Hoops.
"Iceland Foods and the Food Warehouse all set for the 250 new products that launch today," wrote Iceland trading director Andrew Staniland.
"A fantastic job from all the teams involved in bringing this to life."