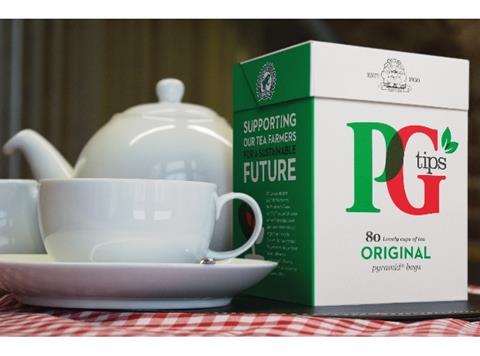 One of the world's biggest buyout firms has teamed up with an Asian sovereign wealth fund to table a £4bn offer for PG Tips and other leading tea brands owned by Unilever. Advent International and Singapore's Government Investment Corporation (GIC) are in discussions about a joint offer for the division ahead of a bid deadline next week (Sky News). The private equity firm gunning for one of the UK's biggest defence companies looks likely to mount a separate bid for Unilever's black tea business (The Daily Mail).
BrewDog has taken a further step towards an eventual stock market flotation by naming Allan Leighton as its non-executive chairman (The Times £). BrewDog, the UK's largest craft brewer, has appointed City grandee Allan Leighton as its chair three months after former staff accused the company of operating a "culture of fear" (The Financial Times £). Craft beer giant Brewdog has appointed former Asda boss Allan Leighton as chairman in a bid to move past previous criticism of its work culture by employees ahead of a planned stock market listing (The Daily Mail).
The owner of Primark has nudged its profit forecasts higher, despite the fashion retailer's sales falling by as much as a quarter during the summer's "pingdemic" (The Times £). Sales at Primark slumped by as much as a quarter during some weeks over the summer period, as the "pingdemic" in the UK and impact of the Covid-19 pandemic in European markets kept shoppers at home (The Guardian). Sales at discount clothing chain Primark have recovered in the past few weeks after they were hit by the spread of the Delta variant in the UK and the "pingdemic", which forced people to self-isolate (The Financial Times £). Summer sales at Primark were disrupted by the 'pingdemic' as coronavirus kept shoppers away from the High Street (The Daily Mail). Primark has revealed it suffered a "pingdemic" sales slump over the summer – and is now facing supply chain delays for its autumn and winter stock (Sky News).
Tesco has launched a trial allowing customers to buy products from shower gel to sugar in reusable packaging (Sky News). Supermarket chain Tesco is to trial its zero-waste shopping service at 10 stores in the East of England (The BBC).
The world's biggest retailer was at the centre of an elaborate hoax yesterday seemingly aimed at manipulating the price of a cryptocurrency (The Times £). The price of litecoin momentarily soared on Monday morning after a press release falsely claimed Walmart would allow online shoppers to pay for purchases using the cryptocurrency (The Financial Times £). Cryptocurrency Litecoin saw a sudden surge in price on Monday over a press release about Walmart accepting it for payment – which turned out to be fake (The BBC).
Disruption from the UK's truck driver shortage is expected to deepen with more goods failing to reach shelves on the high street, the head of Britain's largest logistics outsourcer has warned (The Financial Times £)
It is "not in the hands" of ministers to guarantee there will be enough lorries on the roads to deliver presents on time this Christmas, the transport secretary has told MPs. (Sky News)
'Draconian' customs checks by French officials has spurred Marks & Spencer to consider leaving the country altogether, the retailer's chairman has said. (The Daily Mail)
Sainsbury's is to keep all of its stores shut on Boxing Day, including the Argos and Habitat chains, to allow frontline staff to enjoy an uninterrupted Christmas break in acknowledgment of their efforts throughout the Covid-19 pandemic. (The Guardian)
WH Smith's strategy is an out-and-out bet on the recovery of air travel. Smith's is doubling-down on its strong positions in airport retail. Covid has exposed the flaw in this approach. Until airports are busy again, Smith's cannot prosper. It could be a long climb back to cruising altitude for aviation, and for Smith's. Whether it is loved or not. (The Times £)