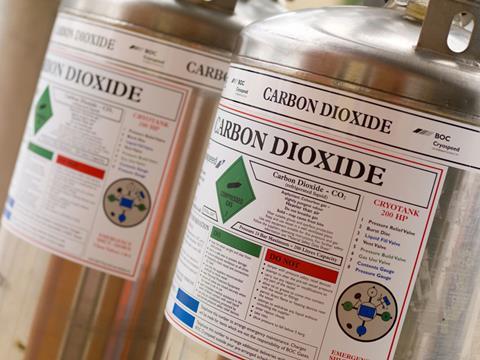 Production is to restart at two of the UK's most important carbon dioxide suppliers after ministers agreed to offer a multimillion-pound taxpayer subsidy, staving off the threat of widespread food shortages and propping up critical nuclear supply chains (The Telegraph).
The Guardian asks why is the UK bailing out US CO2 supplier CF Fertilisers? Ministers have tried to avert supermarket shortages through an emergency deal that will cost taxpayer 'millions', the paper writes.
The CO2 crisis has exposed the government's knee-jerk industrial policy, according to an opinion by the City columnist in The Telegraph. "The ad-hoc approach to industrial and economic policy amounts to nationalisation by stealth," he says.
The Financial Times (£) runs an explainer of the events of the past week: "Fuel, fertiliser and food: how a UK ammonia plant threatened nation with crisis".
The Lex column in The Financial Times (£) takes a look at rising commodity prices. "Spiralling natural gas prices have taken the fizz out of sodas and stymied chicken production," the paper writes. "Now fears are percolating that steep fertiliser prices could inflate the cost of our daily bread, if they persist."
Food industry bodies have warned of panic-buying this Christmas unless action is taken to address labour shortages (BBC News). The National Farmers' Union called for an emergency visa to allow firms to recruit from outside the UK.
The boss of Iceland has told Sky News the "array" of pressures facing the supermarket sector is a worry but there is no need for customers to panic buy in the run-up to Christmas.
The United States is lifting its decades-old ban on imports of British lamb, Boris Johnson has announced (BBC News).
Managers at John Lewis Partnership have been heavily criticised by sections of their own workforce after paying bonuses to senior staff at a time when the retailer is making redundancies (The Financial Times £).
Shipping disruptions and commodity price inflation will increase costs at PZ Cussons by £366m this year (The Times £).
Brexit and the supply chain crisis are threatening to put a dampener on this year's Bonfire Night firework displays as distributors warn that import problems have reduced stocks by up to 70% and forced up prices (The Guardian).
Several American pension funds are threatening to sell their stakes in Unilever over the decision of its Ben & Jerry's brand to stop selling ice cream in Israel-occupied territories (The Times £).