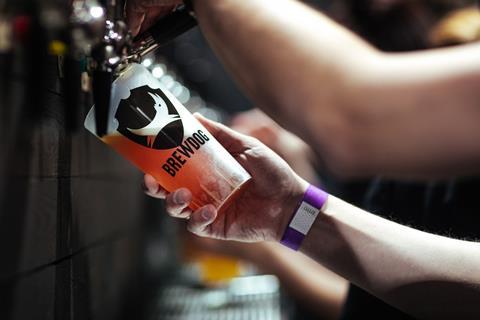 BrewDog has established its first international joint venture with Japan's Asahi as the UK's largest craft brewer seeks to increase sales ahead of a planned London IPO. The Scottish group aims to boost sales in Japan sixfold in five years after agreeing the deal with Japan's largest brewer. The deal comes as BrewDog meets with bankers about a likely London listing, having appointed Rothschild as independent adviser to the IPO process. (The Financial Times £)
The Morrisons bidding war is set to be decided in a dramatic auction showdown 'within weeks'. The Takeover Panel is expected to begin talks with the two bidders and the Morrisons board as soon as this week to draw a line under the three-month battle and end the 'great uncertainty' suffered by the business, its employers and suppliers. (The Daily Mail)
Bidders' enthusiasm for Morrisons unlikely to be dampened by results this week. US rivals remain keen, but with profits under pressure, some wonder if the supermarket is really worth a £7bn offer (The Guardian).
One of Britain's biggest retailers has warned of "significant disruption" to food imports from Europe because officials in some EU countries do not work at weekends. Marks & Spencer held an emergency meeting with its European food suppliers on Friday, amid worries over the strict border controls due to come into effect next month (The Times £). Marks & Spencer has held an emergency meeting with 40 of its top European food suppliers amid fears EU member states and the UK are not ready for the introduction of stringent border controls within a month (The Daily Mail).
Sales at Asda fell from last year's pandemic-driven peak in the group's first full quarter under new ownership, as two more top executives quit the supermarket chain (The Financial Times £). Supermarket giant Asda has reported a 0.7% drop in like-for-like sales, excluding fuel, in its second quarter, reflecting what it called the exceptional sales levels seen during lockdown last year (Sky News).
The shortages of workers that have ripped through the British labour market this summer, leaving businesses understaffed and consumers frustrated, could continue for the next two years, ministers have been warned (The Times £). A leading business lobby group has warned the government that the crisis resulting from the shortage of workers in key jobs could take up to two years to resolve, damaging the economic recovery from the coronavirus pandemic (Sky News).
Britain's shortage of lorry drivers and care staff is unlikely to be solved by furloughed workers being made redundant when the job protection scheme ends at the end of the month, according to a study by a leading thinktank (The Guardian).
More than 8,700 British chain stores closed in the first half of 2021 as a combination of the coronavirus pandemic and the shift to online shopping continued to hit demand for bricks-and-mortar retail, new analysis has shown (The Guardian). Almost 50 stores per day closed down across the UK during the first half of the year, research suggests (Sky News). More than 8,700 chain stores closed in British High Streets, shopping centres and retail parks in the first six months of this year, research suggests (The BBC).
The boss of Wagamama has said the restaurant chain is struggling to hire chefs at a fifth of its sites, as companies across the economy warn of recruitment difficulties. (The Guardian)
Accolade, the wine giant that makes Hardys, has warned that truck driver shortages could hit the busy festive season and push up costs. Robert Foye, its boss, said the firm was being hit by external staff shortages, especially among suppliers, in distribution and delivery. (The BBC)
The John Lewis Partnership faces staff unrest amid complaints of "poverty wages" and tensions over the suspension of bonuses as it attempts a radical turnaround. (The Telegraph)
Tesco could be swooped up by private equity despite its mammoth £19.8bn valuation. Following on from The Grocer's story last week, the Mail writes up Bernstein's argument that the supermarket is its 'top pick' for a takeover as its shares are cheaper than UK rivals and it completed a turnaround under former boss Dave Lewis. (The Daily Mail)
A welter of new investment vehicles are eyeing the fat margins earned by Amazon sellers. Fuelled by the surge in online shopping, these specialist funds have raised about $7bn over the past year to acquire successful Amazon sellers and build portfolios of online brands. (The Times £)
Kraft Heinz has agreed to pay $62m after being charged with false accounting over a period of three years in which it is alleged the food company improperly claimed more than $200m worth of cost savings. (The Financial Times £)
Brazil has suspended beef exports to China, its largest market, after this weekend confirming two cases of "atypical" mad cow disease in separate meat plants. (The Financial Times £)
In Europe, subscription models are a €350bn market, according to ING data. Consumer goods — 15 per cent of total subscriptions — are more recent additions to the party. Multinational consumer groups have focused on selling premium goods directly to consumers, such as Nestle's Nespresso coffee pods. But the model tends to work best for higher-priced items. Once distribution costs are factored in, commodity-like, fast-moving consumer goods are not worth selling on subscription, thinks Bernstein. (The Financial Times £)