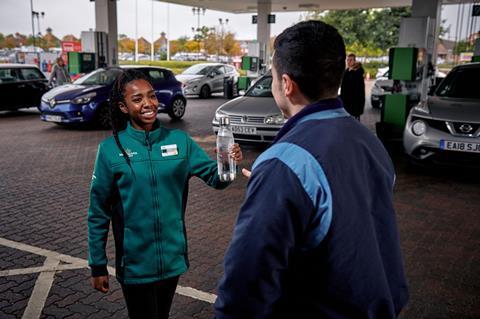 Morrisons is offering free water refills at its forecourts nationwide to encourage customers to ditch single-use plastic bottles and opt for refillable alternatives.
The scheme, which will be available at all its petrol forecourts as well as in store, is being rolled out at a larger scale after a successful 12-week trial in August last year.
The trial showed 18% fewer bottles were sold in forecourt kiosks that offered free water refills, in comparison to the same period in 2019.
Morrisons sustainability manager Natasha Cook said customer feedback showed people wanted help to reduce their plastic usage.
"We know customers often pick up a bottle of water when paying for petrol, so offering free water should be an effective way of reducing these single-use plastic bottles," she explained.
According to Morrisons, around 39 million single-use plastic bottles are used every day in the UK, with most being bought on the go or at work.
Customers will now be able to request for an attendant to fill their own reusable bottle at one of Morissons' 338 filling stations nationwide.
In addition, the supermarket provides water fountains in its stores' food-to-go sections for customers to fill their bottles for free. Its café stores throughout the country also offer a similar service.
Morrisons' latest move is part of the group's plans to reduce single-use plastic packaging. Similar initiatives include swapping plastic bags for paper bags for loose fruit and veg, as well as introducing a refillable container service across different food counters.