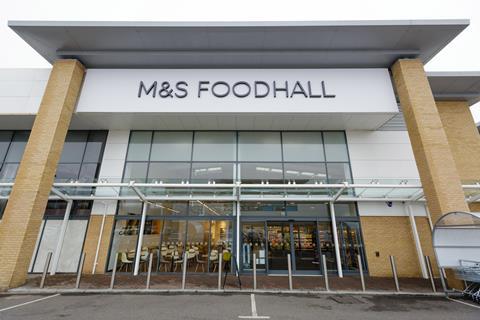 Marks & Spencer is seeing a weekly rise in groceries featured on its new TV show, Cooking with the Stars.
Following each episode's airing, the retailer has made recipe cards available in store for customers to grab throughout the week so they can recreate the dishes that appeared on the programme.
This has resulted in M&S Food registering a spike in sales for items featured on each episode of the ITV show, which has been fully funded by the retailer.
Every week has had a different themed cuisine, with Italian Week being the most successful so far.
Sales for ingredients such as grana padano, pancetta and nduja paste were up 29%, 20% and 11% respectively comparing to the previous week
British Week was followed by a weekly sales rise for fillet steak (43%), vanilla ice cream (40%) and wild Canadian scallops (26%).
There was also an increase in sales of mango (250%) and red potatoes (53%) following the show's Indian Week.
So far and over the course of the celebrity series, over 1.8 million recipe cards have been collected at M&S Foodhalls.
In addition, M&S has seen over 200,000 visits to the Cooking with the Stars webpage since the show started airing.
It has become the supermarket's most visited editorial page ahead of popular ones such as Colin the Caterpillar and Percy Pig.
M&S has used its ITV partnership as a way to drive growth in its food division. Aside from the recipe cards made available at designated in-store displays, the retailer has also been selling Chef Percy stuffed toys and all staff have been wearing Cooking with the Stars aprons throughout the duration of the programme.
Read more: M&S teams up with ITV for celebrity cooking show
Sparks Loyalty Card holders have also enjoyed exclusive offers on some of the show's ingredients.
"Our research tells us this is going to be quite successful for us. We will be able to very accurately work out how this has driven additional revenue and additional profit," M&S marketing director Sharry Cramond told The Grocer last month.