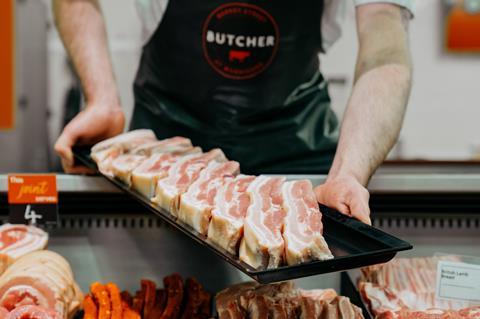 Morrisons has reacted to the recent difficulties faced by the meat sector by launching a major promotion on pork and increasing the amount of meat it prepares in store.
In a move the retailer said would "lend a helping hand to struggling pig farmers" it has slashed prices on a raft of seasonal British pork cuts on its Market Street counters for the month of November.
Products in the promotion include a bone-in pork loin, a bone-in pork loin chop and a bone-in pork belly at £3/kg each; pork shoulder steaks at £2/kg; The Best thick pork butcher counter sausages at £1 for a six-pack; and a 20-pack of thick pork sausages at £2 each.
By comparison, six pre-packed own-label Morrisons pork sausages cost £2.75, while pre-packed pork chops cost £6.90/kg.
And in a bid to speed up the process of getting pork through its supply chain, the supermarket said its in-store butchers would now also receive more bone-in pork joints from its processing sites – where they could then use their butchery skills to finish the products ready for customers in store.
Morrisons added it had invested in automating its processing sites and was "adopting new ways of working to enable us to take up to 3,000 more animals per week".
The retailer has also changed its meat cuts in recent weeks due to stock growing larger on farms, while it will be supplying additional pork for sale to other retailers in November in a further bid to support the pig sector.
This meat would either be exported outside the UK or sold domestically to smaller butchers as whole carcases, it said. The business had also recruited 75 staff for its 18-month butchery apprenticeship programme in September, it added.
Backlog still a 'dire' situation
Morrisons' move follows a crisis-stricken past few months for the British pig sector, which saw the number of backlogged pigs on farms rise to more 100,000 in October due to the impact of a chronic shortage of butchers on throughput levels – which exacerbated already difficult conditions caused by a flooded European pork market due to China's ongoing import ban.
Since then, more than 10,000 healthy pigs had been culled on farms, said National Pig Association CEO Zoe Davies.
But despite the government's u-turn on foreign butcher visas on 14 October, coupled with the announcement of a private storage aid scheme in England, Davies told The Grocer this week that the situation was still "pretty dire", while backlog levels had not changed significantly.
"We're advising members to cull weaners and haven't seen much change since the government's package was announced. Some processors are saying it won't have an impact until the new year," she said, due to the time required for butchers to be recruited.
But despite the current situation, she welcomed Morrisons' move, adding "we hope it will have a positive impact".
Morrisons' support for the sector and its "proactive approach" was also welcomed by NPA chair Rob Mutimer. "Anything retailers can do to promote British pork to their customers is warmly welcomed," he said.
The British pig industry was "struggling at the moment", said Morrisons head of agriculture Sophie Throup.
"As a meat producer, as well as a retailer, we believe we are well placed to help," she added. "We will therefore be offering our customers great deals on pork throughout the month, as well as trying to help the whole industry to prepare more meat."