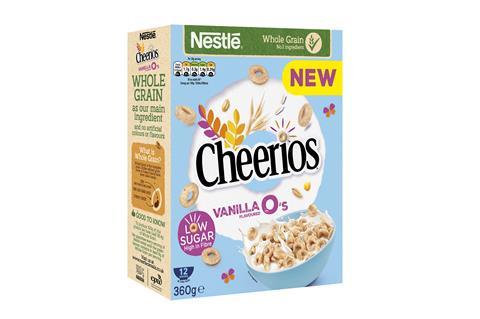 Nestlé has launched a new low-sugar, non-HFSS cereal for its Cheerios brand.
Called Vanilla O's, the cereal is touted as containing less than 5% sugar with "no compromise on taste".
It would offer "a nutritious breakfast option that is high in fibre, contains no artificial colours and flavours, and is fortified with vitamins and minerals", said the brand.
The cereal is non-HFSS and contains 86% whole grain.
It was "our ambition to provide families with a nutritious start to the day, and the launch of Cheerios Vanilla O's further demonstrates our continued commitment to just that", said Nestlé Cereals regional marketing director UKA Toby Baker.
It will roll into Sainsbury's from October, with a wider retail rollout to follow over the coming months.
It's the latest in a series of healthier cereals to hit the market ahead of the government's clampdown on HFSS products.
In April this year, for instance, Nestlé launched a new version of Shreddies made with just four ingredients, called The Simple One.
Kellogg's, meanwhile, announced plans in May to make four out of its five biggest cereal brands non-HFSS.