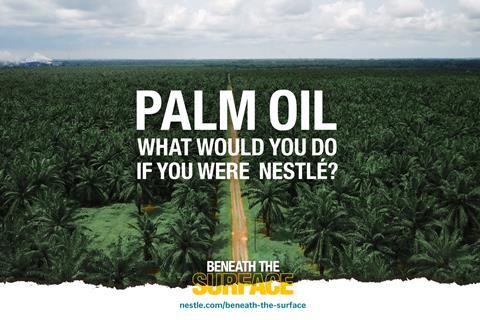 Nestlé has launched an online platform highlighting the "complex sustainability issues" within the palm oil supply chain.
Called Beneath the Surface, the interactive video platform allowed viewers to "directly experience some of the challenges Nestlé faces in sourcing palm oil", it said.
The platform asks consumers to make a series of decisions to ensure a transparent and sustainable palm oil supply chain on a global scale.
It was intended to give shoppers "a better insight into the complexity of the palm oil supply chain and see how the choices they make under the different scenarios can lead to a range of outcomes and consequences", it said.
According to research commissioned by the fmcg giant, around one in five millennial shoppers (17%) tend to avoid purchasing products containing the ingredient.
Nestlé UK & Ireland head of sustainability Dr Emma Keller said she hoped "more open conversations" about palm oil would help people "understand the issues and make better informed decisions when choosing products".
"We can all play a role towards a sustainable palm oil future, where it contributes to protecting and restoring nature to the benefit of people, wildlife and the planet," said Keller.
"We are working on it and expect our consumers to continue to hold us to account," she added.
The move comes after snack bar challenger brand Perkier called for its competitors to match its palm oil-free commitment.
In June, it launched an educational campaign across its social media platforms and on its website to raise awareness about how harvesting palm oil has "damaging effects" on the planet, it said.