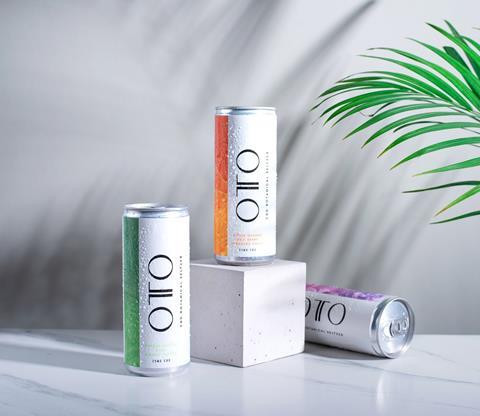 Health and wellness CBD brand Oto has smashed a £2m crowdfunding target as investors are increasingly attracted to the rapidly growing cannabidiol market.
The London-based company beat its target just 12 hours after the campaign launched on the Seedrs platform, and has so far (at time of writing) raised £2.7m from 181 investors, valuing it at £18m.
Launched by husband-and-wife team Gemma Colao and James Bagley in 2019, Oto sits at the premium end of the CBD market, with its products sold by the likes of Harrods, Selfridges and Fortnum & Mason, as well as DTC on its website.
Its CBD product portfolio includes sleep drops, pillow mist, drinks (from cocktail bitters to botanical seltzers and shots) and a beauty range of hand and lip balm, face and eye cream, body oils and other skincare SKUs.
Oto has also partnered with five-star hotels, such as the Mandarin Oriental Hotel Group, which uses the brands products for spa treatments.
The business will use the money raised from the crowd to invest in its spa proposition, expand its international reach to the Spanish market and improve its sustainability credentials with new packaging, ingredients and supply chain initiatives.
"These projects will add significant value to the brand, and the business, helping to acquire more customers in a more sustainable way in line with the needs and the values of modern conscious consumers," Oto said in the crowdfunding pitch.
Co-founder James Bagley added: "We are blown away by the successes of the crowdfunding campaign so far and delighted that people are willing to invest in our meaningful products. We are on a mission to become the LVMH of CBD and knowing that people are willing to invest in our beliefs shows that they are becoming more educated on the value of the power of CBD."
As well as its presence in the UK, with capabilities to ship to 50 countries globally, Oto also has separate DTC websites and teams based in Hong Kong and Japan.
Oto is partnering with The Hut Group to expand its web presence further overseas, starting with the planned launch in Spain.
The crowdfunding round on Seeders follows on from an earlier £1.5m fundraising in January.
With almost historical revenue hitting £1.2m, Oto said it was "poised for rapid growth and expansion".