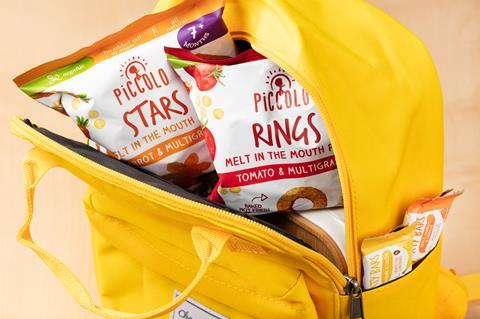 Baby and infant food pioneer Piccolo is boosting its snacking range with a trio of new SKUs.
The brand has rolled out Banana & Cocoa Oaty Bars and a duo of Multigrain Puffs – Tomato Rings and Carrot Stars.
The Oaty Bars are vegan and are billed as being high in fibre, made with no added salt, sugar or palm oil. They include inuline, a pre-biotic fibre the brand said supported "little ones' digestive and gut health development".
The Multigrain Puffs, meanwhile, were "another convenient source of fibre" said the brand, and are made with "protein rich" lentils. "This means parents can feel confident that their children are being fuelled by healthy snacks", it added.
The puffs are suitable for tots aged seven months and older, while the bars are suitable for one year olds and above.
"As a second-time mum, I've been reminded of how difficult it can be to find healthy snacks made from organic, nutritious ingredients," said Piccolo founder Cat Gazzoli.
"I wanted to make our Carrot and Tomato Puffs so parents can make healthier decisions for their little ones when it comes to on-the-go snacking, choosing options which are full of fibre and pack a protein punch."
The bars have rolled into Sainsbury's and Ocado in 6x20g multipacks (rsp: £2.95), while the puffs have hit Ocado, with Superdrug to follow from 4 October (rsp: 85p).